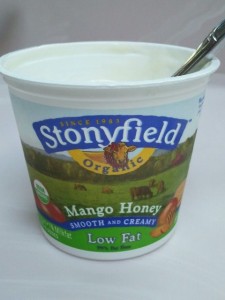 One of the greatest inventions of food for me was definitely yogurt. But not just any yogurt- real, natural yogurt. One of my favorite brands is Stonyfield Farm- they produce some really delicious and organic products!
Today's review? The Organic Mango Honey Yogurt. I  usually eat yogurt with some cereal, or something like a slice of banana bread for a snack before dinner.
I opened up this container and gave it a stir. It was  a creamy yogurt, that was a pale yellow in color. I took a scoop and really enjoyed it- no overpowering flavors at all. Just a tinge of honey and a tinge of mango. Just enough were it was sweet, but not sugary tasting. It had a very fresh flavor to it, and was actually quite delicious. The honey gave it a bit of a tang, and the mango provided a slight aftertaste as well.
Overall, this one gets 4 stars from me. Nothing like real yogurt. Stonyfield Farms has my heart (and my spoon) forever!
1 6oz cup is 130 calories, 1.5 grams of fat, 23 grams of carbohydrates, 0 grams of fiber, 23 grams of sugar and 7 grams of protein.
Whats your favorite Stonyfield Farm yogurt (if you tried one?) My favorite is the Banilla!