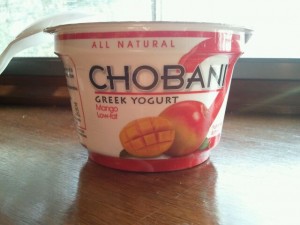 I LOVE Chobani yogurt. My favorite flavors are the pineapple and strawberry banana, which always seem to satisfy my taste buds. I noticed Chobani came out with some new flavors, including the Lemon flavor that I reviewed, and the Mango one I'm reviewing today.
The first thing I noticed when I opened the cup, was some  liquid on the top that resembled milk. No big deal, just stir it in and it's all good (or sometimes I just drink it =P )
I took a scoop of this yogurt, and was a little surprised. It was a bit more tart that I had expected- as I was hoping  for a sweeter mango flavor. What I did like was that this yogurt was still very rich and creamy, and the bottom there was a LOT of pieces of mango. As a whole it kind of reminded me of a tart peach flavor.
Overall, pretty good. I think it's a tad too tart for me, but still enjoyable. So far, the pineapple and strawberry banana flavors still are on the top of the list for me. 3 1/2 stars
1 6oz container is 160 calories, 3 grams of fat, 21 grams of carbohydrates,  0 grams of fiber, 20 grams of sugar and 13 grams of protein.
Have you tried the MANGO flavor yet? What did you think?