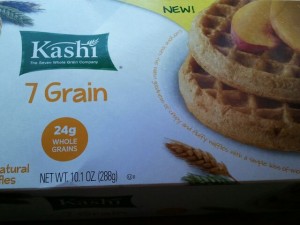 I think frozen waffles are awesome. Convenient, quick to make, and often quite tasty! I was excited to see these 7 Grain waffles by Kashi at Target the other day (I seem to be doing a lot of food shopping at Target lately…hmm).  The looked delicious, and I loved that they had 7 grams of fiber for 2 waffles, and only 3 grams of sugar.
I popped  these in the toaster oven, and decided to eat them with good ol' butter & syrup, with some sliced apple for breakfast.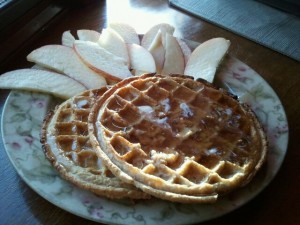 I did manage to try the waffle by itself without any butter or syrup on it, and thought one thing – bland. Very plain, not much flavor. They almost had like an airy and rather dialed down flavor.
However, I did love the crisp edges, and how the middle of the waffles were soft. They absorbed the syrup quite nicely, and were delicious with the butter as well. I also liked how they didn't have an oily taste.
Overall, these were okay. I do like how there was only 3 grams of sugar! And, I do like how I could probably add any topping I wanted, and how they were rather versatile. Although butter & syrup are classic for me with waffles =) 3 stars
2 waffles is 150 calories, 5 grams of fat, 25 grams of carbohydrates, 7 grams of fiber, 3 grams of sugar and 4 grams of protein.
What's your favorite brand of frozen waffles?