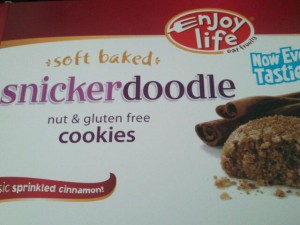 I'm pretty sure snickerdoodles are my FAVORITE type of cookies. I love the cinnamon sugar flavor, and the chewiness that they have. I was offered a free box of the Snickerdoodle Cookies from Enjoy Life, and was excited to try them. I recently reviewed the Lively Lemon flavor of these cookies I also was sent to try, and thought they were pretty good.
Some quick words about these cookies, according to the box, they are nut free, gluten free, wheat free, dairy free, peanut free, egg free, fish free, soy free and shellfish free.
I opened up the box, and like the Lively Lemon cookies, these cookies were kind of small. Like I stated before, they are about the size of a Snapple cap, but 1 serving is 2 cookies as stated on the box.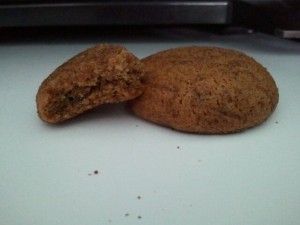 I took a bite, and found them to be very moist, chewy, and almost fudgy in consistency.  I actually really liked the texture, almost like a cake-cookie. They certainly weren't like any Snickerdoodle I have eaten before, but they were still pretty good. A deep cinnamon flavor, and almost a bit of a burnt flavor as well. They were sweet without being too sweet, and even though there wasn't molasses on the ingredient list, the flavor reminded me of something sweetened with molasses.
Overall, pretty good, and quite unique. I would probably eat these again, and I also love how the ingredient list was rather short- 4 stars.
2 cookies is 130 calories, 5 grams of fat, 21 grams of carbhydrates, 2 grams of fiber, 13 grams of sugar and 1 gram of protein.
What's your favorite kind of cookie?