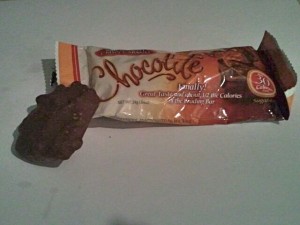 I happen to be a fan of some of the products made by Chocolite. Some of the ones I tried have been sugar free and a tasty option for me compared to standard chocolate. Along with the others I was sent for free to try, I also received the Chocolate Crispy Caramel candies. There are 2 of them in a pack, and rather decently sized. They were bumpy in consistency and covered with chocolate.
I took a bite of one of the candies and noticed it had a slight crunch to it- perhaps this is where the "Crispy" part comes from in the name. It was sweet and very chewy from the caramel. I have a love/hate relationship with caramel. I like the flavor, but too much of it turns me off because it's so chewy! However, these chocolates had just the right amount of caramel to give it flavor, without making me chew too much. The chocolate on the outside was smooth and tasted like milk chocolate. I noticed as I ate these they had somewhat of a salty flavor to them- I NEEDED a glass of water!
Overall, pretty good.  I liked that they were sugar free and had 6 grams of fiber per piece! 4 stars.
Are you a fan of caramel? If so, what's your favorite food/treat involving caramel?
1 piece is 30 calories, 2 grams of fat, 8 grams of carbohydrates, 0 grams of sugar, 1 gram of sugar alcohols, 6 grams of fiber and 1 gram of protein.