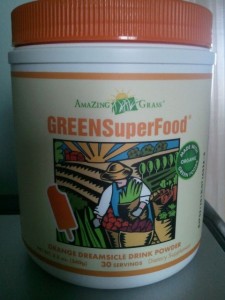 Amazing Grass offered to send me a some of their Orange Dreamsicle Drink Powder to try for free. I accepted, and got this in the mail a day or so ago.
This powder has a whole bunch of stuff in it! According to the label, there are things like the "Amazing Grass Green Food Blend", "Antioxidant Blend", "EFA Fiber Blend", "Digestive Enzyme & Active Culture Pre & Probiotic Blend" and more. I liked it especially because of the "Green Food Blend" which had things like "Organic Wheat Grass" and "Organic Spirulina" in it, which are things I don't consume on a normal basis.
After my workout this morning, I wanted to have some with my meal. It suggests to "mix 1 scoop with 6 oz. of water, juice or your favorite milk". I opted for water at first, so I could see what it really tasted like.
Here's what it looked like when I opened up the tub.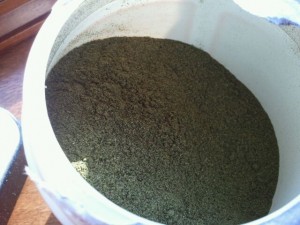 Silly me. For some reason I expected an orange color, since it was called "Orange Dreamsicle". Hah.
With water, it mixed easily. It was kind of "piecy" in consistency. It had a very mild sweetness, and actually DID remind me of an orange creamsicle, but was no where as sweet. I wanted to try it some other way. Conveniently, I had been eating a Pineapple Chobani, and decided to mix some in.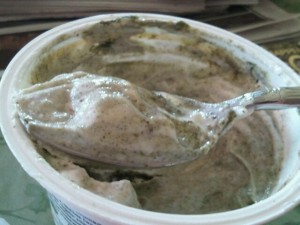 It was certainly a unique flavor with the Chobani, but I kind of liked it!  I think next time I try this, I'll use it in a smoothie or with some milk as suggested instead of water. 3 stars
1 scoop is 30 calories, 1 gram of fat, 4 grams of carbohydrates, 2 grams of fiber, less than 1 gram of sugar and 2 grams of protein.
What was your favorite ice pop as a kid? I always liked those Strawberry Shortcake pops =)