In honor of National Peanut Butter & Jelly Day, I felt it was appropriate to celebrate in the form of peanut butter. This is one holiday I certainly do not mind spending! (Not that I really mind any holidays for that matter, but this one in particular is worth celebrating! =) )
So, I ordered the Fluffernutter sandwich, which came with carrot sticks and a bag of chips. Yes, I realize it's National Peanut Butter & Jelly Day, but Fluff is equally as delicious, and in all fairness, it still was a peanut butter sandwich =)
Here's a pic of what I got (minus the chips that I saved for later)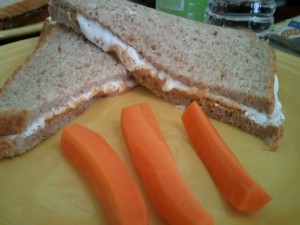 Although it may not seem it, the sandwich is actually rather large. I got my Fluffernutter on wheat bread, which was soft and just perfect. The peanut butter went excellent with the fluff, I got that "stuck-on-the-roof-of-my-mouth" feeling from the peanut butter, and the soft marshmallow fluff brought some sweetness to compliment the peanut butter.
On the menu listed on the website it says "Remember this recipe? Peanut Butter on one side, and gobs of Marshmallow Fluff spread on the other. It's heaven". I could not agree more. There really was peanut butter and fluff oozing out of the sandwich, which I had no problem using my crust to wipe up and eat.
The only slight disappointment of the meal was the carrot sticks. Not that they weren't tasty, because they did taste quite fresh and delicious, but there wasn't enough! Only three!? I would have much preferred a heftier side of carrots to compliment my sandwich.
Regardless, 4 1/2 stars. One of the best Fluffernutter sandwiches I ever ate.
Did you/ are you celebrating National Peanut Butter & Jelly Day? Please let me know! =)