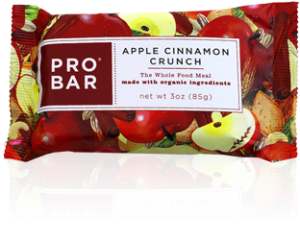 Source
I scored  a few free bars from ProBar, such as the Sweet & Savory Maple Pecan Bar, and the Apple Cinnamon Crunch bar. I was hungry the other day, and in the mood to try something new, so I opened up the Apple Cinnamon Crunch bar to give it a try. I was sure I was going to like it- I love apples & cinnamon!
A quick few things about these bars, they are vegan, organic, and I found out online that this one is "70% Raw" and also has "Omega 3: 650 mg per bar" and "Omega 6: 720 mg per bar". I thought that was pretty cool, a lot going on this bar!
I opened up the package was greeted to a rather thick bar, brownish in color, with visible chocolate chips scattered throughout. Examining closely I also saw a good deal of flax seeds and an occasional nut. I took a bite, and found it to be chewy and very soft, except the for the nuts providing an little bit of crunch. It was pretty apple-y in flavor, which I liked, and really quite tasty!! The apple flavor kind of reminded me of apple pie, with just a very light cinnamon aftertaste.
Overall, I really liked this bar. However. The one thing I did not like, and I also did not like with the Sweet & Savory Maple Pecan Flavor was the chocolate chips. They are way too bitter for me, and I did not enjoy them at all. Not a big deal, I can always pick them out of the bar and enjoy the rest, but I do wish that they could be swapped for something else! Otherwise, 4 stars
1 bar is 370 calories, 18 grams of fat (4 saturated), 49 grams of carbohydrates, 8 grams of fiber, 25 grams of sugar and 9 grams of protein.
Since this one reminded me of apple pie, what's YOUR favorite flavor of pie? I think I'd have to say, mine really is apple!