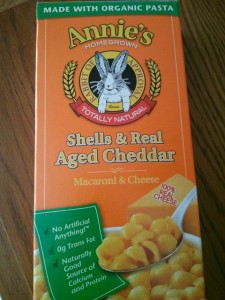 Nothing quite like some mac & cheese! Last night, I was craving some of the cheesy goodness, so I decided to boil up some water and give this mac & cheese a try.
As directed on the package of Annie's Homegrown Shells & Real Aged Cheddar Macaroni & Cheese, I put the cheese powder packet in 1/4 cup of milk in a measuring cup and stirred. Normally I just add the milk and powder to the pot, but wanted to follow the directions. It came out to be a slightly bumpy cheesy "sauce", that I then added to the shells once they were cooked and drained. Here's how it looked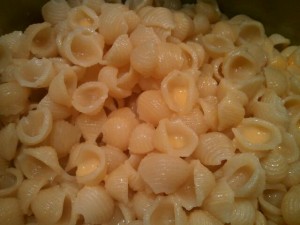 As you can see, there were kind of "cheese puddles" in the shells. The milk/cheese powder mixture really didnt thicken up, so it was a bit runny on the noodles. I found a lot of the sauce on the bottom of my pan. I also found it kind of hard to get all the cheese sauce from my measuring cup out and in the pan of noodles without the help of those flexible spatula things (why yes, I do believe they are called "flexible spatula things" ;P )
Anyway, the taste was acutally pretty good. Not too salty, and a mild cheddar flavor. The noodles turned out to be tender and slightly chewy. I ate this with some green beans and some Smart Bacon.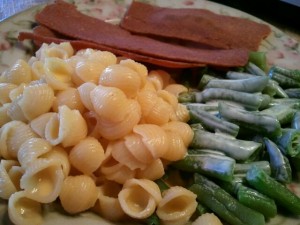 Overall, 3 stars. I love that the ingredients are good, but wish the cheese flavor was more prominent and a thicker sauce. Perhaps I will use less milk next time.
2.5 ounces ( mix not prepared) is 270 calories, 4 grams of fat, 2.5 grams of saturated dat, 46 grams of carbohydrates,2 grams of fiber, 5 grams of sugar and 10 grams of protein.
What is your FAVORITE boxed mac & cheese?