I'm almost always up for anything that involves peanut butter and chocolate. And when it's gluten free, AND made with minimal ingredients? SIGN ME UP!
When I opened up the bar, it has a faint smell of a chocolate brownie. Upon first bite, I thought, where's the peanut butter?! For some reason, I was expecting a chocolate flavored bar with peanut butter chips (which is totally NOT what the name says…just my mind playing tricks on me I suppose (;
But, of course, this was not the case. As I continued to eat it, the subtle flavor of the peanut butter became more prominent. This was actually REALLY tasty! A good chocolate-y flavor, and not so fruity where it's tart, but rather a subtle fruity flavor.  The flavor of the peanuts shined through as well, especially after a few bites. It was kind of like a fudgy brownie with peanuts in it! The bar itself was moist, chewy and dense, but in a good way.
Overall, pretty yummy.I do slightly wish there was peanut butter chips, but  that's just my love (read obsession) with peanut butter. It is a tad high in calories given it's rather small size, but so chock full of goodness that it's worth the splurge. I'm just going to have to contain myself as to not eat 2 in one sitting  (; 4 stars
I managed to snap a photo before I finished it all (almost forgot- oops!!)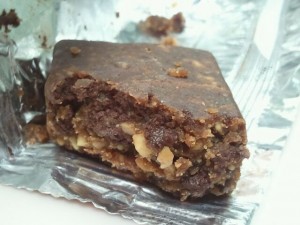 1 bar (45 grams) is 230 calories, 12 grams of fat (3.5 saturated), 26 grams of carbohydrates, 4 grams of fiber, 19 grams of sugar, and 5 grams of protein.
Dont forget this Silk Giveaway here!
What's your favorite thing that combines PEANUT BUTTER and CHOCOLATE? (:
I was given this Larabar to try for free