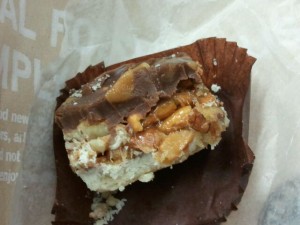 Yesterday was a long day.  A super fun, but loooooong day. So, on my way home, I wanted something sweet as a little pick-me-up. I stopped by Starbucks, and this Salted Caramel Sweet Square  popped out to me. It looked really tasty, so I bought it at $1.50.
It's not huge, but moderately sized. I would estimate half the size of my palm, in square form. I found it to be the perfect size because it was very rich and very sweet (read- very delicious!), so it was just right.
On the bottom, was a crumby, graham cracker/pie crust like layer. On top of that, was I believe some pretzels held together in a sticky substance, and then a chocolate-caramel layer on top. The chocolate-caramel layer was very smooth, sort of like frosting. Predominantly, the name was right on.  Salted Caramel Sweet Square is a perfect name for this bar. It was SALTY, sweet, and had a delicious caramel/chocolate flavor.  I couldn't get over how delicious it was, and although I thought I would have wanted another one since it was small, I was satisfied with one because the flavors were really intense, and really delicious.
Overall, 4 1/2 stars. I  cannot give this 5 stars since it's probably not the healthiest thing (and has 6 grams of saturated fat!), but in moderation, so yummy and so worth it. I would certainly get it again.
What's your favorite treat from Starbucks?
1 square is 190 calories, 11 grams of fat, 24 grams of carbohydrates, less than 1 gram of fiber, 15 grams of sugar, and 2 grams of protein.