Yep- I tried it! I saw NEW flavor at Red Mango, and I just HAD to try it. Seeing as the recently reviewed Peanut Butter flavor at Red Mango was a winner with me, I certainly couldn't wait to try the Raspberry Cheesecake!
I decided to go for different toppings rather than my usual granola and banana, and got fresh raspberries and Mochi as toppings. When I got my frozen yogurt, I felt I had received a little less  yogurt than normal, I was missing that classic fun "swirl" at the top! Here's how it looked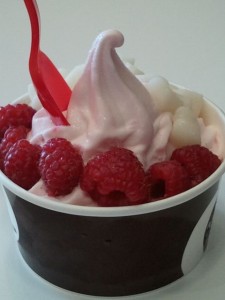 Upon first bite, I knew I had found my new favorite flavor. I'm upset that it's a seasonal flavor. WHY oh WHY do I ALWAYS fall in love with the seasonal items?! (;
It wasn't as tart as the other Red Mango flavors I have had in the past. It was creamy, sweet, and had an awesome raspberry flavor. Very fresh, and very delicious. As for the cheesecake aspect, I didn't detect much of a different flavor other than a rich raspberry flavor, but I certainly didn't mind a bit.
As for the toppings, let's just say I'm going back to my bananas and granola. The raspberries were SO tart! Perhaps if you are a big fan of tart raspberries, you would like them, but they were a little too tart for me. And the mochi, I was also not a fan of. It tasted like marshmallow dough would taste like, if there was such a thing. Chewy like a gummy treat, and awkward tasting.
However, I'm not grading this yogurt based on the toppings I am responsible for choosing. Raspberry Cheesecake yogurt is AWESOME. I highly recommend it. 4 1/2 stars
Do you like cheesecake? If not, what's your favorite dessert?