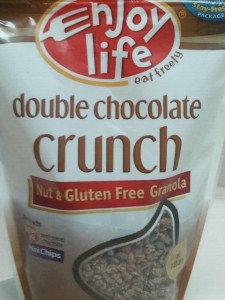 EnjoyLife offered me something new they came out with to try for free, the Double Chocolate Crunch Nut & Gluten Free Granola. Being the nut about granola that I am, (and the fact that chocolate was involved), I couldn't wait to try it.
This cereal is very "allergy friendly", as the package states, as it is free of  "wheat, dairy, peanuts, tree nuts, egg, soy, fish, shellfish" and "also made without casein, potato, sesame and sulfites". Wow. It's amazing how they can still make tasty products even with excluding so many different types of food!
Once I got the package, I immediately dove in and gave it a try. Here's what it looked like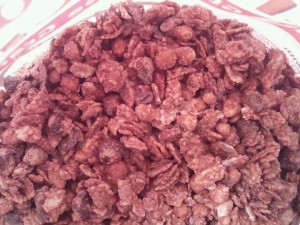 Look at all those yummy chocolate chips!
At first, I thought it was a bit bland, since it's not super sweet. But, as I ate it, it really is delicious, and I couldn't STOP eating it! Handful after handful, I ate the yummy granola. I loved the fact that there were a LOT of chocolate chips, no scrimping there for sure, and they were smooth and sweet. The texture of the granola was crispy, crunchy, and it had a mild chocolate flavor, that again, was not overly sweet.
Overall, very good. It was kind of like a bag of chocolate candies, once I started eating a few handfuls, I kept saying "oh, just a little bit more", and then proceeded to take even more handfuls! I love that this is made with good ingredients,has a bit of fiber, and is a decent portion size given that it involves both chocolate and granola. 4 stars
What's your favorite thing that's "double chocolate"? I love double chocolate chip muffins!