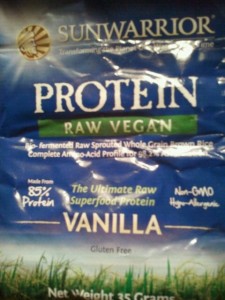 I was sent two free packets of Sunwarrior Raw Vegan Protein powder in Chocolate and Vanilla, courtesy of Andrea from Sunwarrior (thank you!!).
First off, I was impressed. This raw, vegan protein had a LOT of protein for one little packet, and very little calories and only 1 gram of sugar! Perfect for a diabetic like me!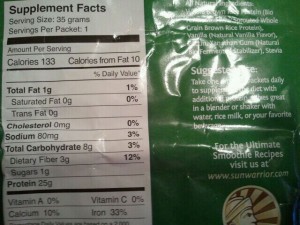 I came home from the gym the other day, and thought it would be appropriate to give it a try. I went for the vanilla first, and mixed it with vanilla almond milk by hand. Although it mixed fairly easily, I thought it was a little difficult to get all the bumps out, and it was a little chunky. However, the chunks didn't really bother me because they dissolved very quickly in my mouth, and almost had a velvety texture. The drink was really good! Sweet, but not too sweet, and a good vanilla flavor that was probably enhanced with the vanilla almond milk. It kind of reminded me of a vanilla milkshake! 4 stars
Next up, the chocolate. Since I had a little trouble stirring last time, I thought I would try a blender. I also thought it would be a good idea to add some ice, so it was super cold and frothy, and chocolate almond milk to enhance the flavor.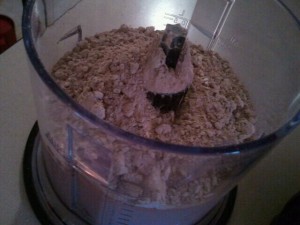 However, ice was a bad idea. Perhaps I added too much, although I only added about 4 or 5 cubes, or perhaps this protein poweder just doesn't mix well with ice. Who knows- but I got a very icy, chunky shake. The flavor was somewhat diluted, but chocolatey nonetheless, also probably enhanced with the chocolate almond milk. The result wasn't very sweet at all, and I think I liked the vanilla better. I got a taste of the powder before I mixed it up, and it was sort of like that chocolate powder one can use to make chocolate milk.  3 stars
I'd be interested in trying both of them again, but without the ice for the chocolate flavor!
Have you ever had Sunwarrior Raw Vegan Protein powder? How do you prepare it?
Also- have you ever tried it with ice, and how did it turn out?