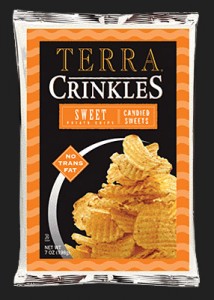 I FINALLY went to Whole Foods yesterday, and got a bunch of awesome stuff! The person I went with only bought a few things (I'd say the ratio of my things to her things was like 50:1) , but she got some of the Terra Crinkles Sweet Potato Chips in the Candied Sweets variety. Driving home, I couldn't wait to try them, since I'm a huge fan of sweet potatoes, and they sounded so yummy!
So I opened the bag, which was a big fail, since it completely ripped down the middle and was not picture-taking worthy after (oops!). I argued it wasn't my fault the bag ripped so funny, I just opened it according to the little tear on top of the bag. I suppose it was my fault there was an enormous rip down the front of the bag, but oh well. At least the insides were safe. Which, speaking of, here's what they looked like inside the bag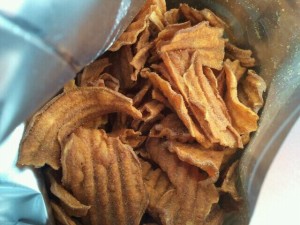 And here's a pic of just one chip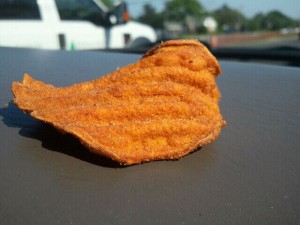 Yeeeep. That picture was taken in the car (no worries, I wasnt the driver!).
I may have eaten these on the way home from Whole Foods…. I told you I couldn't wait! (:
I tried one, and first noticed how hard and crunchy they were. As for the flavor, I must say, very lackluster. The first thing both the person I was with and I thought of was Thanksgiving mashed sweet potatoes. But, to be perfectly honest, these chips were not as good. They had a very strong sweet potato flavor, but  it almost tasted burnt. There was a light dusting of cinnamon flavor, and just the tiniest hint of salt and the tiniest hint of sweetness. I tried a couple more, and I wasn't really a fan, nor was the person I was with.
Overall, 1 1/2 stars. I was really disappointed with these- I really wanted to like them! I feel as if they need to be sweeter and/or more cinnamon-y in flavor, or even more salty. They were rather bland and I really didn't enjoy them. They are also high in fat, but I do like that they have some fiber, are low in sugar, and have 50% vitamin A needs per serving.
What's your favorite way to eat a sweet potato? I must say, sweet potato fries always win me over =)