I'm on a protein powder fix, trying up new combos to enjoy every day! Here's one of my latest shakes I had that I really liked. It was super fluffy and reminded me of Marshmallow Fluff!
Ingredients
-1 scoop (35 grams) protein powder. I used Muscle Milk Chocolate Chip Cookie Dough flavor,  but I'm sure any vanilla would work
– 1/2 tsp vanilla extract
-1/2 tsp xanthan gum (I eyeballed this, but did a rather large pinch)
– 5 ounces coconut milk
-4 ounces ice
– 1 packet sweetener (I used Stevia in the Raw)
Directions
add all to blender, and blend! The result? A protein packed shake that's fluffy and delicious!
Not my best photo, but I didn't think to put
this on my website until after I ate it (: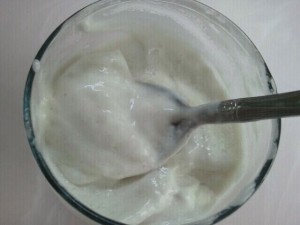 What's your favorite protein shake recipe? I'd love to hear  it!