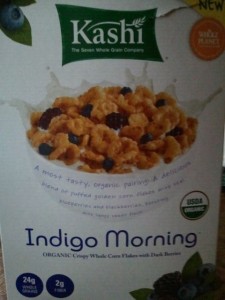 NEW! I saw it at Whole Foods, and being the impulse buyer I am, bought this new box of cereal. I totally disregarded the fact I already had about, oh, twenty or so, boxes of cereal in my closet (what!? I told you I love carbs!), and bought it anyway.
It looked pretty good. And organic? Count me in!
So yesterday morning, I opened up the box, sliced up a banana and took out my almond milk (the other "usual" components of my breakfast cereal). I was slightly disappointed, there were HARDLY any blueberries or blackberries in the box!  ):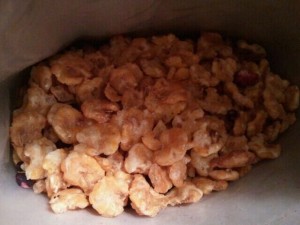 Regardless, here's a pic of my bowl. The cereal totally hides my bananas, but that's all good.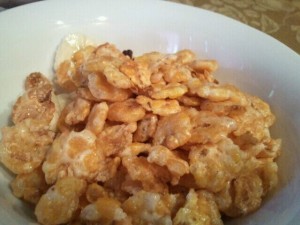 Before I poured the almond milk or added any sweetener, I had a few flakes dry. They were light, crispy, and crunchy, but very bland. Just  a HINT of sweetness, with a predominant corn flavor. They reminded me of what a puffed up corn flake might taste like.
I then tried them in the almond milk, where they proceeded to get soggy very quickly. In fact, I felt as if I went through my milk quicker than usual, and had to add extra to my bowl, as I believe the cereal soaked it all up! This wasn't a problem for me since I happen to like soggy cereals (please, tell me somebody else does too!!). To describe the texture in the milk, it was kind of like soggy potato chips. Weird, but not horrible.
However, I had to add some sweetener to my milk to add some flavor to the bowl. The bananas alone wasn't enough.  And the few blackberries that I did have were actually quite good. Tart yet lightly sweet. I was surprised I liked them, since I'm not a big fan of blackberries in general.
Overall? It was ok. I had it again this morning, but mixed it with a more sugary cereal. I actually liked the result! I had the sweet taste of my other cereal mixed with the Kashi Indigo Morning cereal. I also really liked that the Kashi cereal had a pretty good portion size. 2 1/2 stars
Do you like your cereal soggy? Or do you prefer to eat it right away?
3/4 cup is 100 calories, 1 gram of fat, 22 grams of carbohydrates, 2 grams of fiber, 4 grams of sugar, and 2 grams of protein.