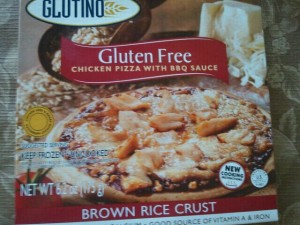 I was craving something carby for dinner (me? crave carbs? never (; ), so I decided to try the Glutino Chicken Pizza with BBQ Sauce I bought the other day at my Whole Foods trip. I really liked the Duo Cheese and Spinach & Feta pizzas that Glutino made, so I thought this one would be good too.  I set the oven to 375 degrees and let it cook while I steamed up some broccoli on the side.
Here's how it looked frozen- there wasn't a ton of cheese, and the crust was thin.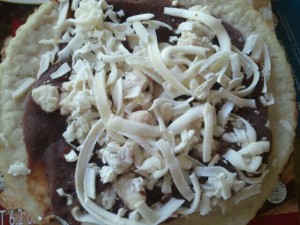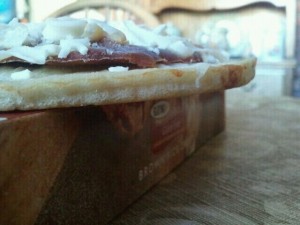 The pieces of chicken looked small, so I was a bit skeptical at first.
However, I found that they were just hidden underneath the cheese!
And here's how it looked out of the oven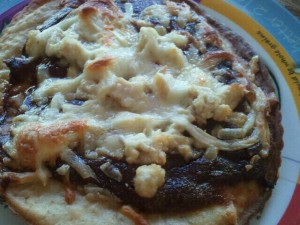 I took a bite, and instantly fell in love. I honestly didn't think I was going to like this as much as I did. It was AMAZING! The crust was crunchy yet soft, and there was a good amount of BBQ sauce on the pizza. The BBQ sauce itself had a tomato based flavor, and was sweet at first, but certainly left a bit of spice lingering. There was a good amount of cheese, which I liked because I personally am the type of person who would pull off the cheese on a slice of pizza (haha don't hate me!!). The chicken was in small chunks, which were juicy, flavorful and chewy, but in a good way.
Honestly, this pizza rocked. I am SO buying it again, even if that means driving all the way to Whole Foods to get one (or 3…). Everything worked together, and tasted wonderfully together. I felt like I was eating something that tasted like it was from a restaurant, and I liked that the nutritional information was pretty good as well! This one deserves it – a 5 star rating!
What's your favorite kind of pizza besides traditional cheese and sauce? I think this one is MY new favorite!
nutritionals and ingredients!