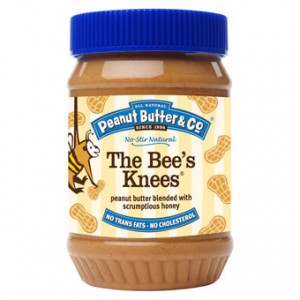 Source
Along with the delicious Cinna Raisin Swirl Peanut Butter I won a little while ago, my 2nd jar I won was the Bees Knees from Peanut Butter & Co.
One thing I noticed about this peanut butter was that it wasn't vegan. I remember seeing a vegan label on some of the Peanut Butter & Co.'s peanut butter, which made me curious as to why this one wasn't. After doing some research, I saw that honey wasn't vegan! Who knew! (If anyone knows for sure, please correct me!)
Anyway-
Onto the peanut butter. In a word? It was….Delicious! Thick, smooth, and very peanut buttery. It had little granules in it,  along with a pleasant sweetness from the honey. I like that you can taste both the honey and the peanut butter. I had mine directly from the spoon (when does that not happen?), but I think it would be AWESOME on a peanut butter and banana sandwich! (kind of like the Elvis sandwich!!)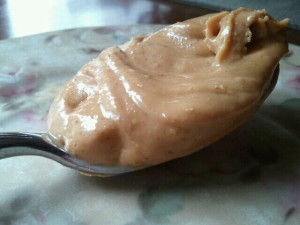 I even thought the label was cute- the monkey looks like a bee!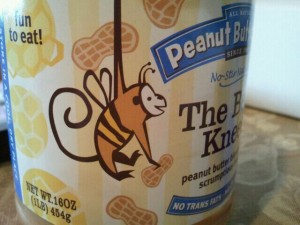 Overall, really tasty!  It was a tad high in sugar, but not too terrible. I would definitely buy this one in the future 4 1/2 stars
2 Tbsp is 180 calories, 14 grams of fat, 12 grams of carbohydrates, 1 gram of fiber, 8 grams of sugar, and 6 grams of protein.