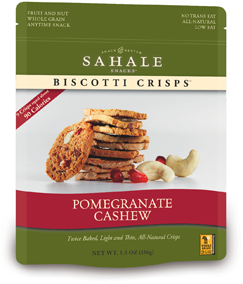 Source
Biscottis. I'll admit they never were my favorite type of cookie (can I label it as a cookie?). For arguments sake, I'll say they never were my favorite type of sweet treat. I'd always prefer an ooey, gooey chocolate chip cookie or a chocolatey brownie, so I'm not sure what compelled me to buy these. Perhaps it's the fact that cashews are one of my favorite types of nuts, or that I happen to be a fan of Sahale Snacks.
Either way, they sounded pretty good, and the nutritional facts and ingredients were Lisa- approved as well. I ended up buying one of the big bags at the store,  and here's what a few of them looked like out of the bag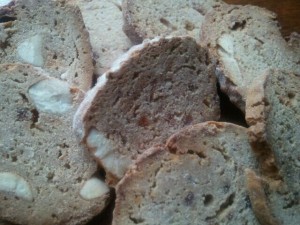 Upon first bite, I noticed a nice crunch. Not super hard, so crunchy it hurts to chew, but a good crunch. The first thing I noticed about the flavor was vanilla. What's the name of these again? Vanilla cranberry cashew? I thought to myself. Close, but not quite. Pomegranate Cashew was more like it.
These were sweet, with a light toasted flavor. I wouldn't say I could really detect pomegranate flavor, it was more like just a fruity, slightly sugary sweetness, even with a mild apple flavor. There was also a hint of saltyness that I detected while eating these.
As for the cashew aspect, I would assume the white pieces in the crisps were pieces of cashews, but the flavor really wasn't there. I wouldn't be able to say that it was a cashew flavor without being told it was cashews, but knowing there was cashews in the crisps, I could state that there was a mild cashew flavor.
However, don't get me wrong. These are pretty tasty. Love the sweetness and the unique flavors, even though the flavors promised aren't very prominent. The portion size is also quite decent. Overall? 3 1/2 stars
Are you a fan of Biscotti? What's your favorite flavor or brand?