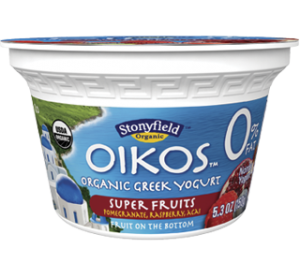 Source
I won an awesome contest hosted by Oikos, and got some free coupons to try the Oikos yogurt. I ended up picking up a new flavor I never tried before, Superfruits. This yogurt had pretty impressive stats, with 0 grams of fat, and 13 grams of protein per cup, and only 130 calories.
I put mine in the freezer for 30 minutes or so, and when I took it out, the top had a slightly hard texture. Peeeeeeerfect. It was just the way I liked it, because I could break it and then stir it up so it was one cool and creamy treat.
The yogurt itself was very thick, I was actually surprised just how creamy it was! Even the white yogurt on top had a slight fruity and sweet taste to it, and wasn't completely plain. The fruit part on the bottom was jelly like but also slightly bumpy in consistency. There were no fruit chunks, like I normally would find with say a strawberry or blueberry. I don't mind pieces of fruit, so either way I was fine with it. It was sweet, and had a really fresh, fruity flavor, with a kind of tart, raspberry tasting flavor.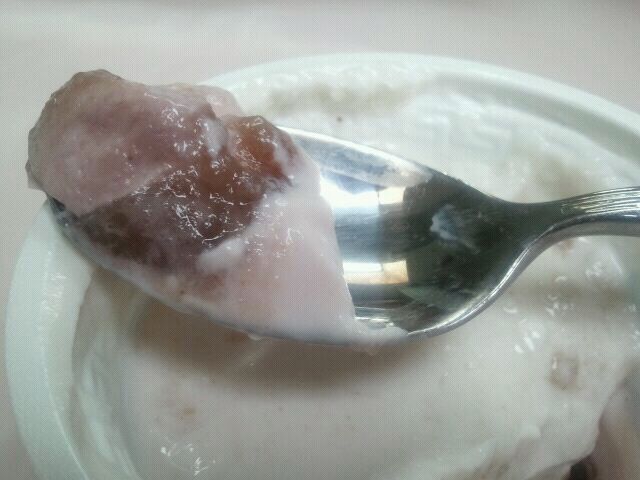 Overall, I really liked it! I would definitely get it again, even when my coupons run out (:  4  1/2 stars
1 cup is 130 calories, 0 grams of fat, 18 grams of carbohydrates, 0 grams of fiber, 16 grams of sugar and 13 grams of protein.
What's your favorite fruit? Mine would be the apple 🙂