Courtesy of ProScotti, I was sent a few flavors to try for free of there biscotti! I received Mocha Chocolate Chip, Chocolate Orange Almond Biscotti , and Almond Orange Flavor. What I liked about these, is that on the package it stated that they had "Omega-3", were "Low-gluten" and had "more protein than 2 whole eggs". That's my kind of biscotti!
At first I thought, WOW, these are really  THICK pieces! They reminded me of banana bread with the way they looked. Then after taking my first bite  I realized there were 2 biscotti in a package. Ooops! (:
The Mocha Chocolate Chip was the one I tried first.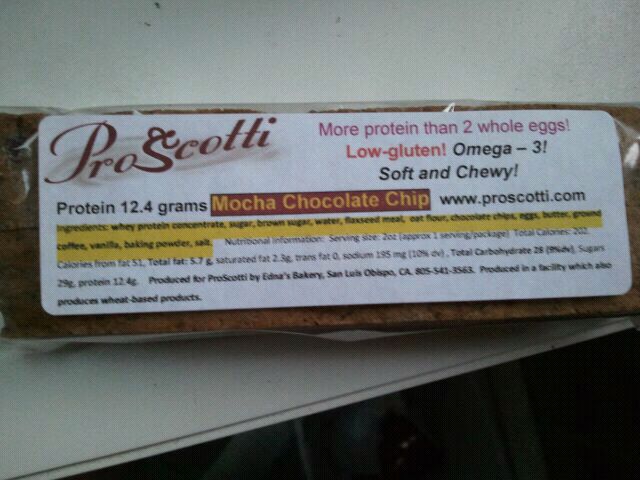 At first, I INSTANTLY thought of coffee. Now, mind you that I am NOT a big coffee drinker, but when I do drink it,  I like it with milk or soy milk and I like it SWEET 🙂
This was just that- a soft biscotti, that wasn't super moist, even a touch on the dry side. It had  a great coffee flavor, and also pretty sweet! It was actually pretty good! There were baby chocolate chips as well, which added a little chocolate flavor, and I think I tasted a hint of vanilla as well.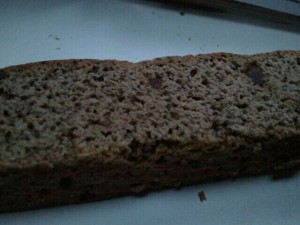 Overall, for the Mocha Chocolate Chip Flavor, I give it 3  stars.I do love the protein, but they are a bit high in sugar. Although, I think there is a typo on the package- it states 29 grams of sugar but only 28 carbohydrates? Confusing, but I'll roll with it for now.
1 package is 202 calories, 5.7 grams of fat, 28 carbohydrates, 29 grams of sugar, and 12.4 grams of protein.
How do you like your coffee? I can't imagine drinking it without milk and sugar!! But soy milk and sugar is my favorite =]