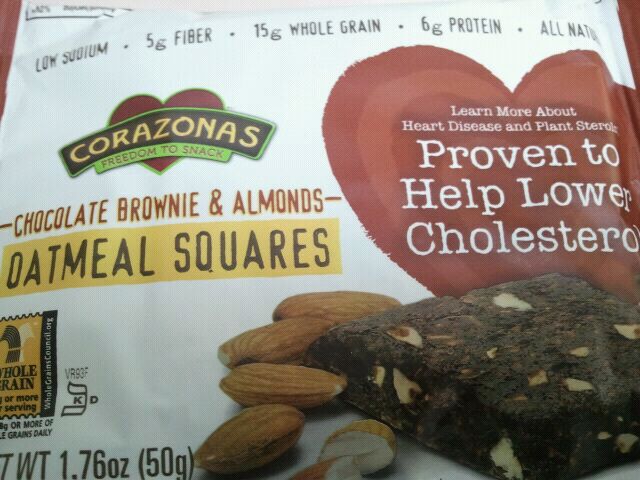 I'm an oatmeal kind of girl.
Well….. I mean I eat  cold cereal for breakfast 6 out of 7 days of the week, but oatmeal is certainly on the top of my list for things I like to eat. I just hate cleaning pots and instant oatmeal is never as satifying as stove top.  SO basically, I'm a lazy oatmeal lover, where if it's there, I'll eat it, but if I have to cook it, I might just have cold cereal and wish it was oatmeal. But what about an oatmeal square?
Corazonas Chocolate Brownie & Almonds Oatmeal Squares got me covered. They incorporate the oats that I really should eat more often, and pair it up with chocolate. And almonds. And according to the wrapper, also ".8 grams of Plant Sterols" and "15g of Whole Grain". That's my kind of snack.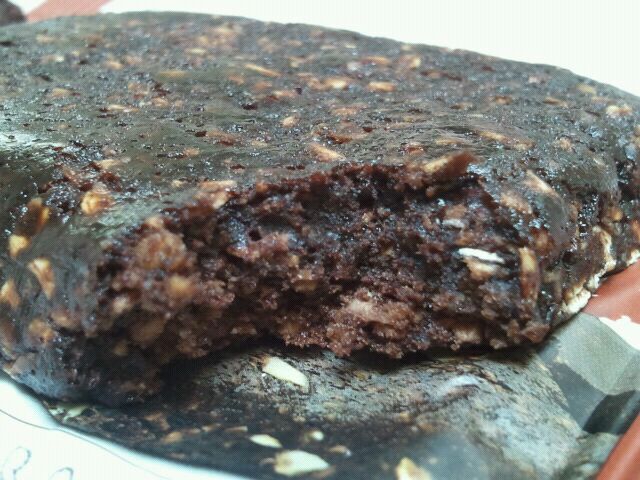 Chewy and fudgy in consistency, with some chewier peices that had the consistency of uncooked oats.It was very moist, and could easily be pulled apart. Lightly sweet, with more of a deep cocoa rather than chocolate flavor. I wouldn't say this screamed "ALMOND" flavor, but there was a hint of almond flavor that went well with the fudgy chocolate flavor. I do think it reminded me of a brownie, but certainly a healthier type of brownie. It wasn't overly sweet like brownies can be, but it did have somewhat of a rich flavor.  Also, it still  made me want to either
1. Grab a tablespoon of peanut butter to smear on top
2. Grab a cup of milk to eat with this
3. All of the above
(Can you guess which one I did?) (;

Overall, 4 stars. I like it. It's a little small, but it's a good snack for me on the go or before a workout, or to pair with some fruit and a glass of milk for a light breakfast. I like that it was sweet enough to feel desserty, but not too sweet where I have  a headache. (headaches from sugar? Not. Fun. Been there, done that, too many times. You think I'd learn! I never do).
So….if you HAD to choose… Cereal or Oatmeal for breakfast? tough choice, I know!
I was provided this bar to try, free of charge.