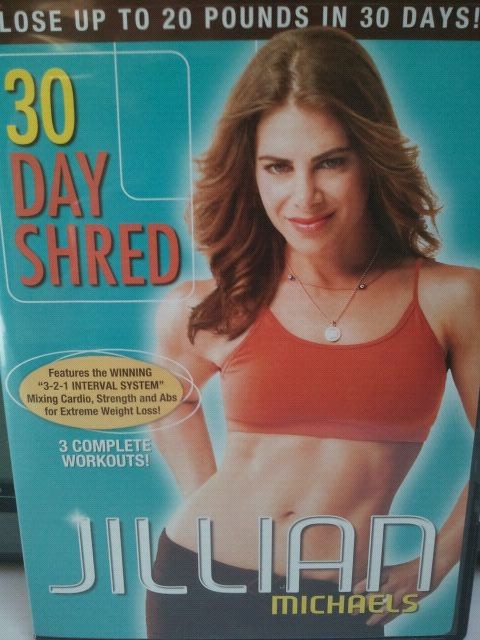 Not reviewing a food today, but, an exercise video I just bought! Jillian Michaels 30 Day Shred. I heard excellent things about it, and wanted to try it for myself. I bought it, not for weight loss as it promotes, but because I love intense workouts. Seriously- I have friends that are convinced something is wrong with me because I'm one of those "go hard or go home" kind of people. I can't help it!
Now, keep in mind I have a background with exercise. I kickbox 5-6 times a week, strength train, and bike ride as well. So I'm certainly not a beginner, and consider myself an advanced exerciser. I used 5 pound weights for most of the video, but also used 8 lbs for some exercises.
There are 3 levels to the video, and this review is of Level 1. The video begins with a warm up, of not really stretching, but loosening up everything. Arm swings, jumping jacks, etc. I actually liked this form of a warmup because I felt ready to go once it was over. I hate going into exercise when I'm not warmed up, as I feel like I am slugging through the whole thing.
As stated on the DVD box, there are "Three 6-minute Circuits Featuring Jillian's 3-2-1 Interval System: 3 Minutes of Strength, 2 Minutes of Cardio, 1 Minute of Abs".
The strength training moves were quick and effective, and left a burn. I think I may use 6 or 8 pounds next time I try this level instead of 5 pounders. The cardio moves were not complicated at all, and kept the heart rate up. They were hard, but not super challenging where I couldn't catch my breath. Lastly, the ab moves were ok. I kept in mind that it was Level 1 and as the levels progress the ab moves will probably become more challenging, but I did not feel any burn in my abs for the moves I performed.
Overall, Level 1 of this video was a hit for me. I liked that it was pretty challenging, and the fluid movement of the video. It was very quick, about 20 minutes, so I ended up doing the Level 1 twice. It was actually pretty fun for me, which is most important for me in a workout. If I'm bored, I'm out. But this was fun, and I can't wait to try Level 2 and Level 3!
Have you tried Jillian Michaels 30 Day Shred? If not, what's your favorite exercise DVD?