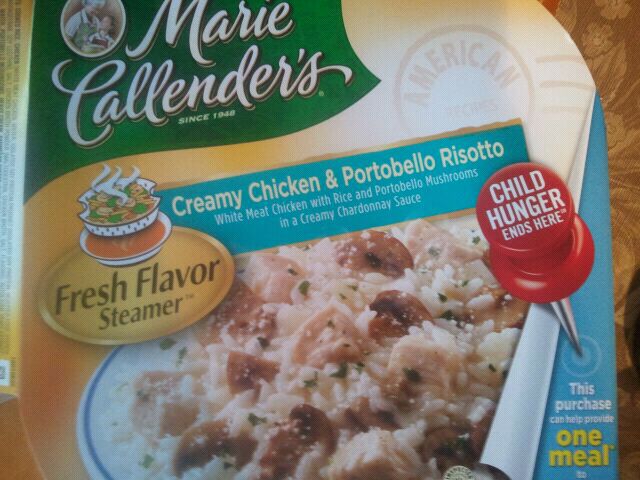 You could say I have had PLENTY of frozen meals in the past. Between eating them intentionally for a review, eating them because I haven't had time to fully cook a meal, or the more likely option, I'm too lazy to cook anything, I have had a good amount of meals in the past.
I do have a couple standards when picking out frozen meals. They can't have any trans fats, they have to be made with organic or natural ingredients, and they can't be crazy high in saturated fat or calories. And in order for me to buy and eat it again, it has to taste homemade. If it tastes super commercially prepared, or bland, or just mediocre, I will not buy it again. I usually stick to Amy's Kitchen Meals (like here are the ones I reviewed!), as they never have disappointed me in the past.
Well, I went shopping the other day and to my disappointment, there were HARDLY any Amy's meals at that store. So, I went looking for another option. I saw these meals by Marie Calleender's, and although the ingredients weren't as nice as I would like them, they weren't horrible either.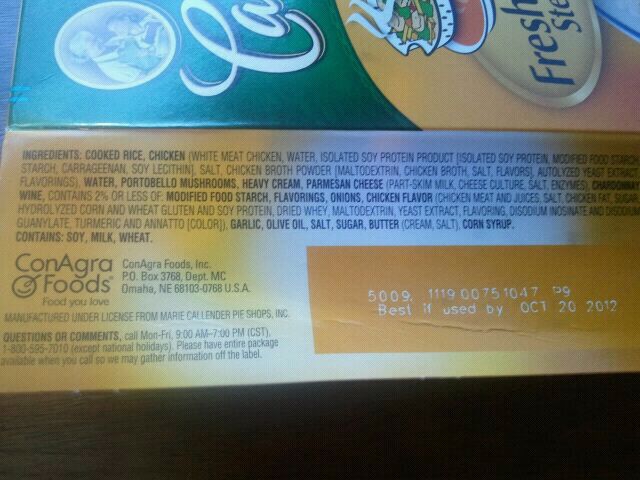 So I cooked this meal up, and noticed it cooked separately from the sauce. Here are pics before adding the sauce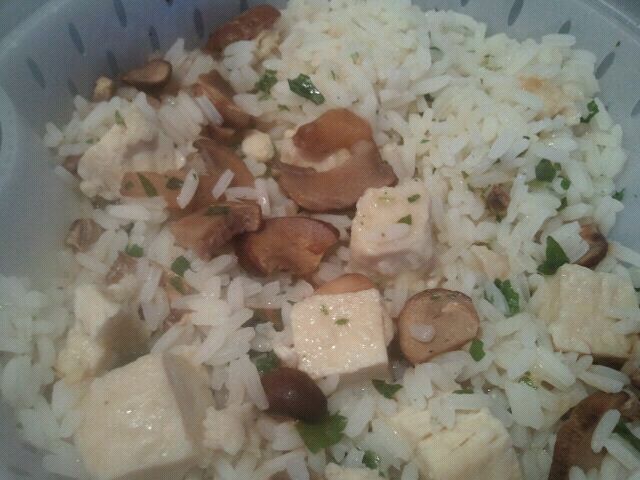 and after adding the sauce…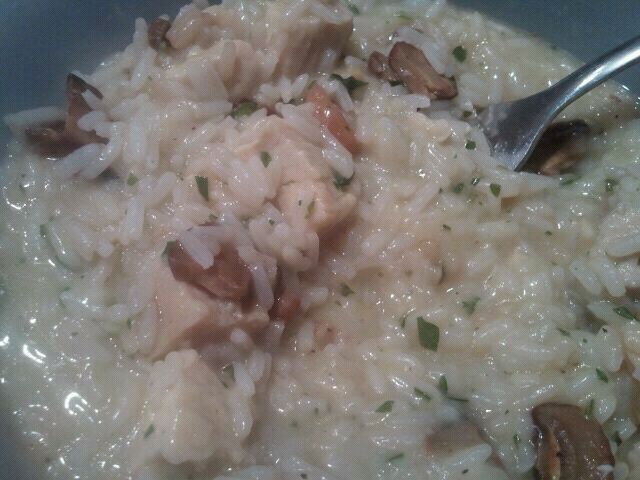 So yea, it looked absolutely delicious. Why? Because it was!
I also steamed up some veggies on the side, because I felt this meal was lacking in the veggie department minus the few mushrooms thrown in.
There was a good amount of sauce to mix the meal, which I liked, and the smell was delicious. The mushrooms were chewy, tender, and actually pretty good. I cant say I'm a *huge* fan of mushrooms, they are more of a take-it-or-leave-it vegetable for me, but these were pretty good!
The rice was fluffy, and soft and absorbed the sauce quite well to really make a creamy risotto!  I was a bit disappointed that it was white rice instead of brown. The sauce was buttery and cheesy tasting, and really, when do the flavors of butter or cheese really disappoint? They certainly did not disappoint me. I will happily accept buttery and cheesy flavors on my food. =)
Lastly, the chicken. The chicken was sort of weird to me- it was cut into cubes so I was expected a very processed tasting chicken. However, it tasted like it was pulled right off of a rotisserie chicken! It was chewy and soft and really quite good! It was a tad on the salty side, but nothing I couldn't handle.
Overall, very good. There were flavors of onion, garlic and cheese, and I really enjoyed this meal. I do think it definitely needs some veggies on the side, but nothing I couldn't easily fix.And although the ingredients had a few things I wasn't happy about, it tasted like homemade to me! 4 1/2 stars
What's your favorite product by Marie Callender? I also really like the biscuit mix!