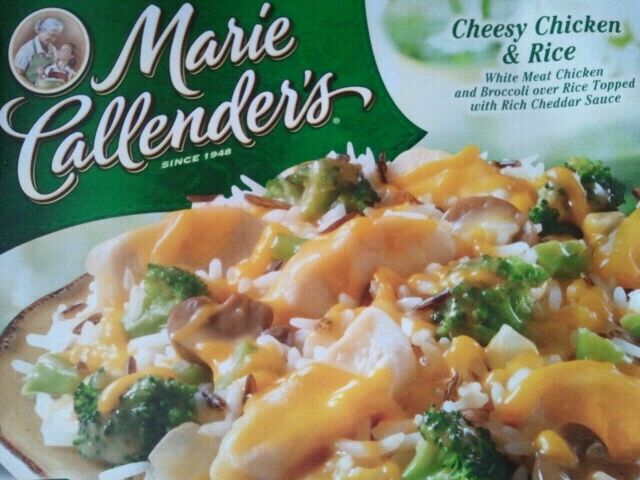 I  went to the store the other day to pick up some random things, including some frozen entrees for when I dont have time (or more likely, don't feel like) cooking. I saw this meal, Marie Callender's Cheesy Chicken & Rice, and knew I had to give it a try, especially since I liked the last Marie Callender meal I tried. The ingredients weren't too bad, so I put it in my cart and bought it.
I was excited to try this. I picture a gooey, cheesy entree, with huge chunks of chicken and pieces of broccoli scattered throughout. Luckily, after I cooked it for the designated time, it looked pretty much as I had imagine it.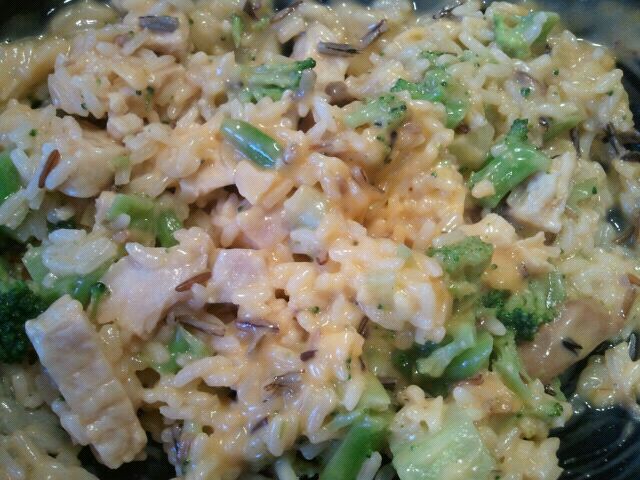 However, when I pictured cheesy, I pictured more of like a stringy, gooey cheese. In this meal, it was more like a cheese sauce, or something that had the consistency of a cheese dip that comes from a jar. But don't get me wrong – it still looked delicious. And let me tell you, it was a long 8 or 9 minutes I waited for this entree to be done including rest time. Sort of like when I bake cookies – longest 8-10 minutes of my life.
So, moving on, I tried the pieces of chicken first. They were juicy and chewy, but also a tad salty. There was a good amount of them in the entree, which I liked. I think this help contribute to the 24 grams of protein in this meal, which made me and my gym-worked muscles quite happy.
Next up, the broccoli was tender, but not soggy, so it was perfect for me. I happy to be quite a fan of broccoli, so the fact that this was included in the meal made me happy on the spot.
Lastly, the rice was fluffy and delicious. There was white rice and some grains of wild rice. It thickened up with the sauce quite nicely, which had a cheddar flavor. The cheese sauce was actually a bit of a let down, as it had a bit of an artificial taste to it. I was expecting a real cheese flavor, and it had more of a cheese-from-a-can or jar flavor. It wasn't bad, but it wasn't my favorite.
Overall, pretty good. I would eat this again. I loved how it was high in protein, but it was VERY high in sodium for me, 1000 mg?! A bit more than I'd like in one meal.  All in all, I would give this 4 stars
What's your favorite thing that's CHEESY? I would have to argue that crunchy cheese doodles are one of my favorite cheesy things =)