This morning, I was feeling something a little different than my normal bowl (ok…two bowls) of cereal, with fruit, milk and spoon full of peanut butter. Don't get me wrong, I think that will always be my favorite breakfast, but I was feeling some change.
So I cooked up some oatmeal, added a few ingredients, and once I tasted it, it really reminded me of rice pudding! Rice pudding is one of my absolute favorite desserts, especially topped with cinnamon. Now I can enjoy it, with the health benefits of oats!
Here's what you need:
1/2 cup rolled oats (I used Quaker)
1/2 cup water
1/2 cup milk
1 tsp vanilla
BUNCH of cinnamon- I didn't measure, but I added a lot.
1 apple (half cut in tiny pieces, half in slices or however you want to eat)
3 packets stevia (or sugar)
butter (to taste)
In a pot, add the milk, water, oats, cinnamon, vanilla, and 2 packets of stevia. Cook until desired consistency. Add half of the apple to the pot in the final minute or so, so it is warm and soft.
Transfer oatmeal to a bowl. Add the final packet of stevia/sugar on top, along with the butter. Add some milk around the edges if desired. Enjoy with other half of apple, some toast, juice, etc.
I gotta learn to wipe the sides of the bowl clean before I take pictures …..  ; )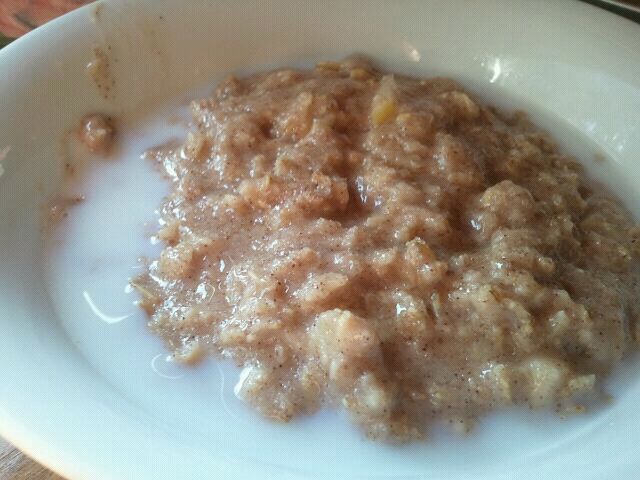 I really liked this oatmeal- I will certainly try it again. Let me know if you try it and like it!
What's your favorite oatmeal recipe? I'd love to hear some!