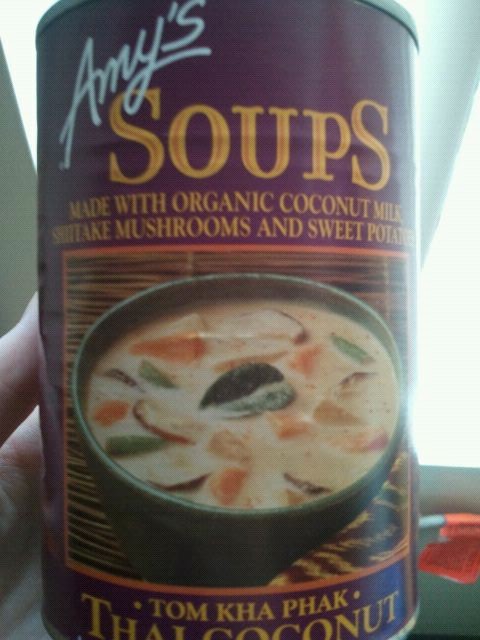 It's a sad day for me in Amy's Kitchen world.
First off, you guys should (hopefully!!) know by now how much of a fan I am of Amy's meals. I love a lot of the entrees, and never had a problem with any of them in the past. In fact, I continue to eat Amy's Kitchen meals (despite the hefty 5-6$ price each!) on a daily basis.
So, to try something new, I picked up the Amy's Kitchen Thai Coconut Soup. If it was anything like the Thai Stir Fry Meal (one of my FAVORITES!) I was sure I was going to like it. So I opened the can and poured it into a pot. I was really taken aback. Why was this so thin? I thought. From the front of the can, I was sure it was going to be thick and creamy. Instead, it was almost like a thin broth, with a few vegetables scattered. Here's what it looked like after it was done cooking.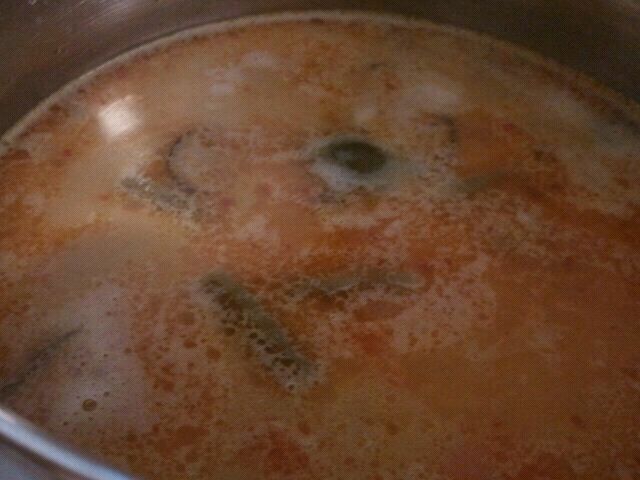 Wait…RED-ORANGE? Why wasn't it white like the can?
Whatever, I thought, pictures on the front never really look like how the product actually looks like anyway.
So I took a spoonful, excited to try. I was hoping for a creamy and rich tasting soup with coconut flavor. However….it really wasn't like that at all. Like I said, there were very few veggies. In fact, here's the size of the pot I used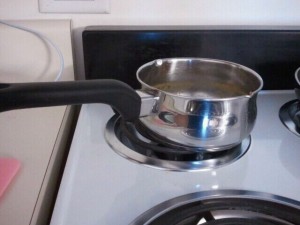 And here's the amount of veggies in the soup after I poured out the broth.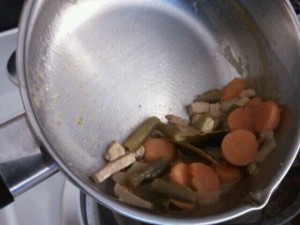 Yea….
So not much veggie action going on there. Or, veggie and tofu action. But, even with the vegetables that were there, I was diasppointed. The carrots were very mushy, green beans kind of the same, the tofu was alright but bland, and the random leaves- I think they were bay leafs?, I threw (ahem, recycled) the can before I wrote this up so I forgot to check the ingredients. Regardless, I wasn't a fan of the veggies : (
I wasn't really a fan of the flavor of this soup either. Like I said it was very thin, with almost a tomatoey flavor. There also was an awkward spice to it, that reminded me of cayenne pepper. I didn't get to finish this soup, so I heated up a delicious meal I knew I would love – Amy's Enchiladas in the microwave. Good thing for back up! =)
Overall, 1 1/2 stars. I really didn't enjoy this, but if you tried this, I'd LOVE to know your thoughts!
Question- what's your favorite thing involving coconut? Mine is definitely Amy's Kitchen Thai Stir Fry, which I'm pretty sure is made with coconut milk!! =)