I know, I know. HOW could I go into Crumbs and NOT get a cupcake that everyone seems to love?
Well…..
I dont know.
The Frosted Black and White Cookie (clocking in I believe at 390 calories for one) called to me. Did I need all the inevitable sugar and fat in this cookie? No. Was I going to eat it anyway? You betcha.
So I took the cupcake, oops, cookie, home after a long walk to pick up some groceries. I was hoping the icing wouldn't get all mushed, and it stood up pretty well. It was that type of icing that hardens a bit, and wasn't super runny. For whatever reason, I thought it was a good idea to break up the cookie before taking a picture. (If this was Twitter, I'd put a #oops following that statement…)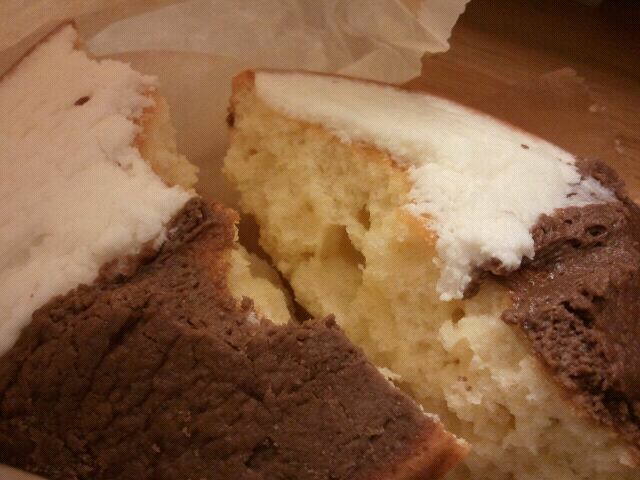 The cookie was soft and thick. The bottom cookie part had a vanilla sugar cookie flavor, but was more cupcake-y than cookie-y (is that a word?) in texture.  I actually really enjoyed this part. I could probably eat a cookie entirely of this cakey-cookie part and be very satisfied. It was sweet, but not too sweet and really delicious.
The white side of the cookie/frosting I wasn't too crazy about. It tasted overly buttery (assuming there is butter in it), or almost like a tangy sweet whipped cream cheese. I wasn't digging it, unfortuantely. The black side was better, but also had a bit of an off taste. It had more of a cocoa flavor to me than chocolate, but was pretty good, and also pretty sweet. The frosting was very delicate, almost whipped in consistency.
I have had the Mini Black & White Cookie from Crumbs before and thought it was awesome. Honestly, I think I would rather have one of those than one of these Frosted Black and White Cookies to satisfy my sweet tooth. The vanilla or white side of the cookie really threw me off, and just wasn't digging it. This cookie costs be $3.00, and I can't say I'm not disappointed =(  2 stars
Again, I dont know the exact nutritionals or ingredients, except I believe it was 390 calories. Which, is a MEALS worth of calories, but it was a treat! =)
Ever buy something thinking it would be delicious only to be let down a little (or a lot!)? What was it?