The other day I went to visit my personal trainer.
It. Was. Awesome.
I was sore from head to toe the next day. Really. I THOUGHT I was in shape.
Regardless, post exercise, I went home and realized I was starving. But had hardly anything in my kitchen. A girl can only have scrambled eggs as a source of protein for lunch so many days a week. So I decided to go to one of my favorite spots, Cosi, and get a sandwich packed with some delicious chicken for protein.
Looking at the menu, I decided on the Lighter Side Tandoori Chicken Sandwich. It was chicken, a fat free vinaigrette, chunks of chicken, red bell peppers, and their beyond delicious whole grain bread (although white bread is also an option. But you know me- gotta get the whole grain when offered!)
By the time I got my sandwich, I was ravenous, which I think enhanced the eating experience even more. But I have a feeling this sandwich would have been delicious even if I wasn't as hungry as I was.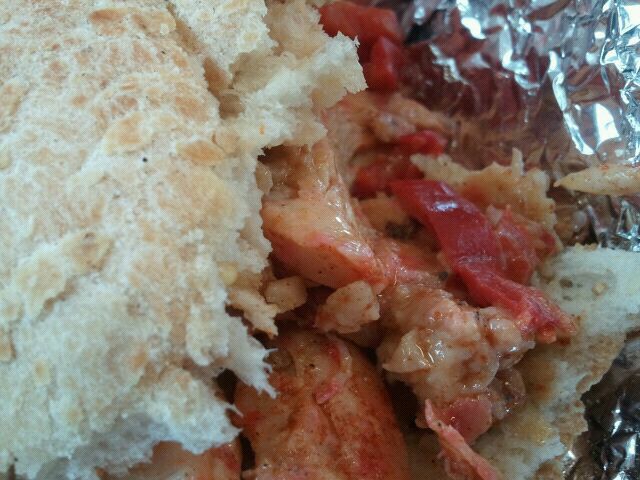 You can check out the nutritional information here
As you can see, huge chunks of chicken, strips of peppers, and a fluffy yet crust bread. The chicken had a bit of heat to it, and was spiced mildly. It was chewy, with a little bit of tang, and had a bit of a peppery flavor as well. I liked that there was BIG pieces in the sandwich, and not little cubes or anything like that.
Moving on to the peppers, they were, ok. They were chewy but still had a bite to them, and were tangy but not too spicy which I liked. I wasn't really crazy about the peppers, and could have totally eaten the sandwich without them.
Moving onto the bread. Oh my goodness the bread. Seriously, can  I just go in there and order bread? Because I'm certainly tempted. It was crusty on the outside, and fluffy on the inside with a slight olive oil flavor. The dressing even soaked itself in parts of the bread, which provided even more flavor. It seriously was delicious.
Overall, really tasty! It also came with carrots (or I believe chips was an option as well) on the side. With my sandwich, carrots, and a drink it came out to about 10 dollars. Needless to say, I was full for a few hours off of this sandwich, so well worth the money!  4 stars