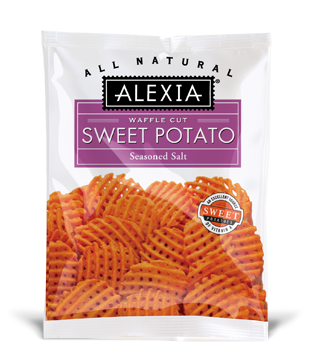 Source
Oh yeaaaaa. Sweet potato fries. I saw these at Whole Foods and was immediately excited! Of course, at the time I didn't take into account that I DONT have a pan to cook fries on at home, so these were purchased very quickly after discovering them at the store.
I say discovering because that's what I feel like it's like when I go to Whole Foods. I never actually know where ANYTHING is. Even when I normally get a few of the "regulars" in my shopping cart, sometimes the store changes, or I go to a different Whole Foods, or sometimes there are just foods that are "hidden" and need a little extra searching to find 🙂
ANYWAY (I like to go off on tangents apparently….), I made these Alexia Waffle Cut Sweet Potato Fries last nights with some chicken-less chicken nuggets (courtesy of Trader Joe's), carrots, and way too much ketchup (oh well!).
I cheated a little bit. I didn't follow the cooking instructions 100%, and put them on broil after it was cooking for a while. (I was hungry!)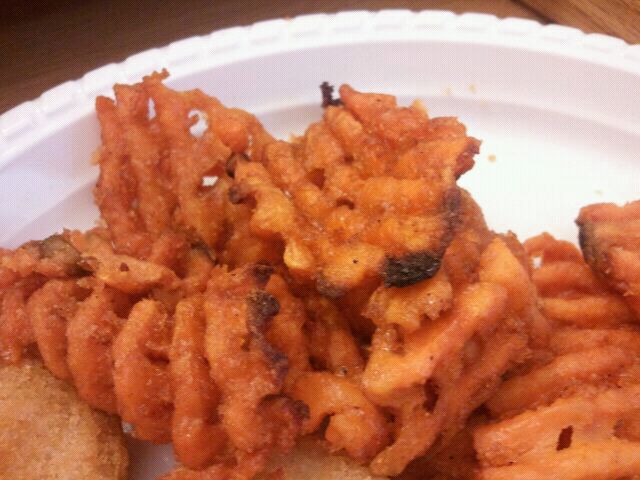 My gut feeling said curly fries. My taste buds agreed.
Upon first bite, I thought, uhh? Did I buy curly fries? Are these really sweet potato fries?
Straight from the oven, these had crispy edges, with a softer middle, and were certainly quite greasy. There was a peppery flavor, which caused me to be suspicious that they were curly fries. They had a very mild sweet potato flavor, which really disappointed me! I didn't want a peppery, savory tasting fry – I wanted a sweet potato fry!!! I think the "curly fry" aspect of the fry's flavor came from the kick/ bit of spice they had. They also needed a pinch of salt (but really they didn't, at 330 mg of sodium per serving!), which I think would help enhance the flavor of the sweet potato. They did go pretty well with ketchup, but, between the nuggets and these fries, I went through an awful lot of ketchup last night =P
Overall, these were ok. I liked they had some fiber and were relatively low in fat and calories for a serving. I dont think I would buy them again, but I'll finish the bag. 3 stars
If you had to choose….. sweet potato fries or curly fries? I would pick sweet potato fries, but maybe this version instead (click here)
1 cup (85 grams) is 130 calories, 5 grams of fat, 330 mg sodium, 20 carbohydrates, 3 grams of fiber, 4 grams of sugar, and 2 grams of protein.