I shouldn't have done it.
Coming home from the gym today, I passed by this bakery, Birdbath Bakery. I have such a weak spot for cookies. Cake? dont need it. Ice cream? pass. Brownies? no thank you. But cookies? I. Cannot. Resist. Cookies.
So after I elliptical-ed (is that a word? It is now!) for an hour (ok, ok, 45 minutes) I wanted to take a peek inside the bakery. Maybe get a muffin or something. And then I saw a stack of cookies in various flavors. Some of them were vegan, and some weren't I ended up getting 2 vegan cookies, and 1 not vegan- the chocolate chip, for 5 dollars.
The staff was very friendly, and I overheard that if you brought your own container in, you get $1 off your purchase AND, I read on the website you get 25% off if you come by skateboard or bike! Eco friendly alert!! 🙂
You can check out their website here- they are pretty amazing!
ANYWAY, back to the goodies. I already froze the other two cookies to eat later, because I KNOW I would eat all 3 in one sitting if they were in front of me.
This cookie. Was amazingly-amazing.I mean, really, HOW could this (half a cookie picture- wonder where the other half went?? =p ) taste bad?!?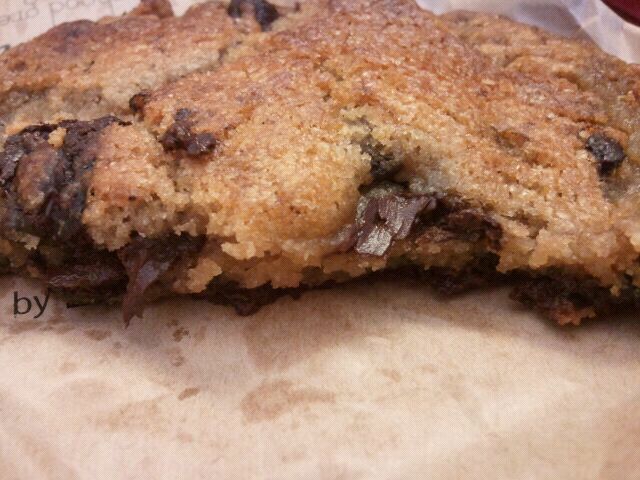 Also note the grease spots on the bag. THATS how you know something
tastes good!
This cookie had the slightest crisp on the outside, and was soft, gooey and rich on the inside. It had a buttery taste, and was rather sweet, but very delicious. I noticed it even had a slight pretzel taste to it- weird – but it worked. It added that very slight salty taste that accompanied the big, gooey chocolate chunks.
Overall, a delicious cookie. Aside from the pretzel taste thing going on, a perfect chocolate chipper in my eyes. And at 3 for 5 $, thats a little over $1.50 per cookie, which isn't too bad. Plus I'm loving the eco-friendly aspect of this place!!!
I kinda love this place.
I kinda couldn't stop eating this cookie. In fact I demolished it in about 5 minutes.
I kinda can't go here unless I went to the gym that day.
I kinda dont want to know how many calories, fat and sugar is in this cookie.
Because…I kinda dont care.
It's that good 😉
SO, if you ever have the chance to go to Birdbath Bakery, I highly recommend the chocolate chip cookie! This was the non-vegan version, but they HAVE a vegan one as well!!  5 stars
Ever been to a vegan bakery? Which one? What did you get?