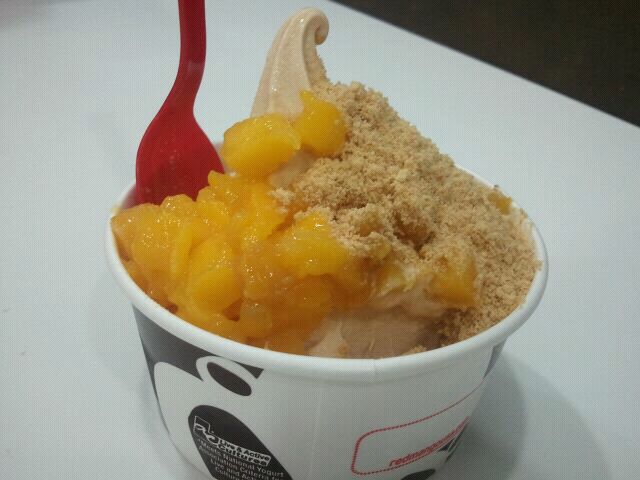 Ahh, it's that time of year again.
I'm a summer girl at heart, but I do love fall. A time of pumpkin and apple picking (love me some candy apples!!), bringing back the UGG boots (woo!!), and….Pumpkin Spice Frozen Yogurt at Red Mango.
It came back to the establishment a few days ago, and while schedule conflicts KEPT PREVENTING ME from getting there, I finally did. And so glad I did too!
I got a small Pumpkin Spice, with graham cracker topping and mango pieces as well.  I believe it was around the higher side of 4 dollars. The pumpkin spice yogurt itelf is amazing. It was smooth in consistency, and thick but not thick like greek yogurt. It was sweet but not too sweet, and just the right amount of tartness. Enough so you can taste it, but not enough to make you scrunch your face up saying that's TART! So, a good balance in my eyes. There was a mild yet yummy pumpkin flavor.
The graham cracker topping was finely chopped, and even resembled sawdust (although, THAT'S not a recommended fro yo topping!! ; ) ) . It added a pumpkin pie kind of feel to the yogurt, and had a slight honey flavor, which I really enjoyed.
Lastly, the mango chunks were perfect! Sweet and very soft, and not tart at all! A few times I have gotten frozen yogurt, the mango chunks were very firm and very tart. Yes…I am guilty of going in the dead winter when it is practically 0 degrees outside, so I've had my fair share of exposure to toppings and flavors- I think it's safe to say these mango chunks were very delicious, and perfect on the frozen yogurt.
Overall, I would definitely get this again. I wish there were more Red Mango establishments nearby where I live, as I would get it more often! Although maybe it's a good thing there aren't too many…I would spend my whole paycheck there 😉
4 1/2 stars
What's your favorite season and why? There has to be someone out there who loves winter, right??  ; )