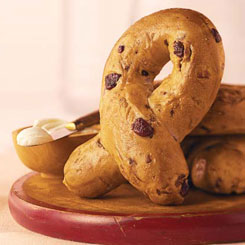 Does it really get any better than Panera Bread? Soups, sandwiches, paninis, salads….delicious food items all under one roof. I went  to visit home this weekend (WHY oh WHY is there no Panera where I live?!?!) and knew I had to make a stop to get Panera. I'm addicted to their Chicken Apple Salad and Tuna Sandwich =)
So, as I walked in I was greeted by someone at the door who asked for a dollar donation, in exchange for some bread. I thought why not. What's a DOLLAR if it helps cure Breast Cancer?
Unfortunately, I ate mine before I took a picture (woops!) but it was pretty much identical looking to the picture from this website listed above.
But, it was delicious. One of the best dollars I ever spent. It was chewy, light and fluffy in consistency. It had a rather sweet flavor, with hints of cinnamon as well. There were a few scattered dried cranberries in the bagel, which added just a touch of unexpected flavor.  In all honesty, it was perfect by itself. I ate it as is, kind of like how someone would eat a hot pretzel. I just tore off parts of the bagel and ate it. However, I definitely think it would be awesome with butter or some cream cheese!
Overall, 4 1/2 stars. A yummy bagel for you, and a $1 toward the Cure. Total win-win!  ; )
What's your favorite type of bagel?  I really like cinnamon raisin ones!