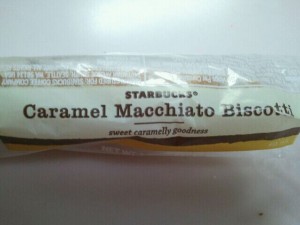 Who's obsessed with Starbucks!?!
meeeeeeeee.
I'm definitely guilty of going to Starbucks every week (err, day) to get my caffeine fix. What's a girl to do when she has to do 8 million things in one day and needs caffeine to keep her going? It HAS to taste good and Starbucks does coffee right. Perfect in fact. So yummy.
Anyway, I got a caramel frappuccino and saw the Starbucks Caramel Macchiato Biscotti waiting at the counter. Oh, Starbucks, you are so sly. Not only am I spending over 5 dollars for a drink, now I am spending additional money on a biscotti that I probably don't need. But, I saw it, it looked interesting, and well, I bought it. I. Am. An. Impulse. Buyer.
Moving on,
Here's what it looked like.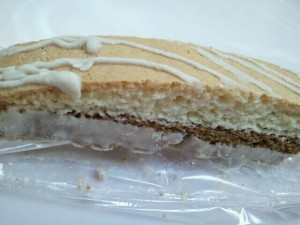 There were three "layers" of the biscotti. A white layer on top with some sort of drizzled frosting, a middle thin brown layer, and a bottom layer that was frosted. The top layer tasted like a plain biscotti, nothing special. Crunchy, with a tad bit of vanilla flavor in it. The middle layer was also relatively bland, but had more of a coffee flavor to it. The bottom layer, my favorite, was sweet and had a coffee/caramel flavor to it, as well as being slightly softer than the rest of the layers as it had the frosting on it.
I wouldn't say this biscotti was amazing, but it was ok. It was crunchy as a biscotti should be. I probably would have liked it better had the whole thing been frosted rather than just the bottom, just because I think without the frosting the biscotti would have been rather boring and bland. A good dunking-in-your coffee kind of cookie, but I also bought this with a frozen drink so that was a tad difficult (FAIL!!)
Overall, I would skip this biscotti. It probably wasn't worth the additional 170 calories, as it was kind of small and lacked amazing flavor. If you want an amazing treat for around the same number of calories, I HIGHLY suggest this product I reviewed in the past. SO. GOOD!
I also don't think this was worth the 15 grams of sugar and 3.5 grams of saturated fat. Really?? Where did THAT come from!?! So overall, 2 stars
1 Biscotti is 170 calories, 6 grams of fat, 27 grams of carbohydrates, 0 grams of fiber, 15 grams of sugar, 3 grams of protein.