I have a confession.
I'm obsessed with banana flavored things. Banana bread, banana ice cream, banana yogurt (yes! they make it!). I DONT like fake banana (aka laffy taffy) but real banana flavored things I absolutely adore. Which, go figure, I find weird because I'm not all that crazy about bananas themselves. Hmm.
So, I got this free Corazonas Banana Walnut Oatmeal Square from the company to review, and I was pumped. BANANA walnut. Even if it was Banana spinach flavored oatmeal square I probably would have been excited. Ok, maybe I'm overexaggerating, but let's just get it out there that I love banana.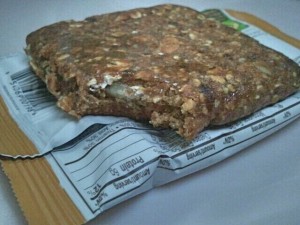 Who nibbled my bar!?!?! oh wait…
So, pregym, I had this bar with a scoopful of peanut butter. It was one of those mornings where I DID NOT want to wake up early and have a proper breakfast before the gym, so a granola bar would suffice. Although, always prepare for the munchies later on if you don't have a big breakfast! Or at least that's the case for me!
ANYWAY- this square was really quite good. It was soft, chewy and dense, and you could really taste the banana. It tasted like genuine and real banana for the most part, but did have a tinge of that "artificial flavor" feel to it. But not too bad. And not like laffy taffy (sorry to those who love laffy taffy- can't do that fake banana flavor!!).
There was a slight cinnamon flavor, and it was certainly sweet! The oats gave it a hearty texture and it was a rather satisfying bar. I felt energized during my workout (trust me, I hardly sleep anymore so I definitely didn't get the energy from a solid 8 hours of sleep!   ) and I couldn't get over how banana-y it was. The whole "walnut" aspect of this bar was lackluster for me. I don't even know if I remember tasting them?? Magical walnuts perhaps…?
Anyway- 4 stars. A good bar. I would buy it in the future.