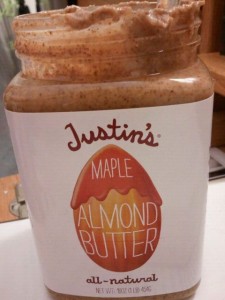 I finally bought a jar of this stuff. I pass by it almost every time I go to Whole Foods (probably because I ALWAYS go down the nut butter aisle).
What stops me? This jar of Justin's Nut Butter was so good, so why not buy another?
the 10 dollar price tag. My wallet cries everytime I buy nut butter. So pricy. But so worth it. Keep on crying, wallet.
So I bought this nut butter, and home it went. I opened it up and noticed considerably oil separation, so a little stirring and I stored it upside down ( a trick I learned from a friend! keeps the oil on the bottom!!) until I got to try it.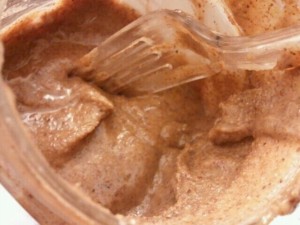 Yea I eat my nut butters with plastic forks. Don't you?
The first thing I noticed- it was THICK. I tried this when I was already a bit thirsty, and that was a mistake. It literally stuck to my mouth. So, have some water on hand!
It had a mild sweetness, and mild maple flavor. The predominant flavor is definitely ALMOND. It has the gritty texture I find most almond butters do, and every now and then a rush of salty flavor would happen. It was a bit "pasty" but not bad.
And while it's quite good, it's not amazing. I wish it was sweeter, or saltier, or both. I wish I could taste the maple flavor more, because I'm not sure I would be able to say "this is MAPLE almond butter" if I was given a blind taste test. And you know me (or hopefully you have picked up on) and that I LOVE maple flavored things. (Like these cookies? YUMM!)
Overall, 3 stars. I don't know if I would buy this again, especially since it is 10 dollars,  but I want to try more Justin's Nut Butters! Just have to save up some money first…. =P
Whats the most you EVER spent on nut butter??