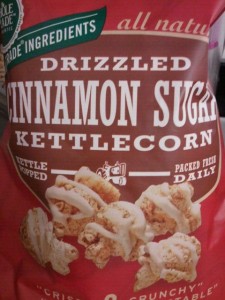 So, as IF we need any more sweet treats to eat during the holidays, I'm reviewing another sugary snack. But really,  HOW do you say no to a product like this?? Did I already eat cookies upon cookies upon cakes this holiday? YES. Did I already have cabinets stocked full of munchies? YES. Did I need another snack? NO!!. Should I have saved my money since it's the holiday season and I need to spend it elsewhere? YES!
But did I buy it anyway? You bet. ; )
Popcorn, Indiana Drizzled Cinnamon Sugar Kettlecorn sounds absolutely amazing. And that's because it is. Starting with the serving size. 1 cup. But is it really 1 cup? As you recall, from this review, the actual amount of popcorn I got was depressing.
This one? I GOT A WHOLE CUP! And I weighed it too. 28 grams.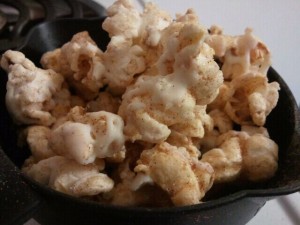 I tried a few pieces. Mmm. Crunchy popcorn, with a white chocolate tasting drizzle on top and on most of the pieces. There was certainly a predominant cinnamon flavor, and the popcorn was mildly  sweet by itself, but very sweet for the pieces with the drizzle.
Eating it, it reminded me of a cinnamon bun. With the cinnamon flavor and the drizzle coming together like icing on a cinnabun. In other words, I could seriously eat this all day long. DANGEROUS! Especially during this season with all those buttery and sugary treats coming my way! Ahh!
Overall, this crunchy, sweet, cinnamony goodness gets 4.5 stars. Such a delicious treat, but it is rather high in sugar so I can't eat too much since I am a Diabetic : ) (Although there was so not 6  servings in this! I think I only ate it like 3 times and I measured for the most part! Boo!)
What's your favorite combination? Cinnamon and sugar definitely is one of mine!