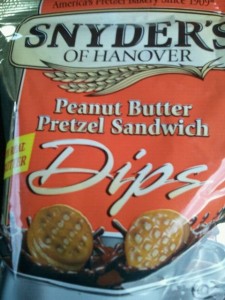 Peanut butter + pretzels + chocolate? Need there be another reason to  buy these? I didn't think so. I also didn't care that my wallet currently has 5 singles in it and I spent a few of those on these Dips. Oh salty sweet snacks, why must you tempt me so?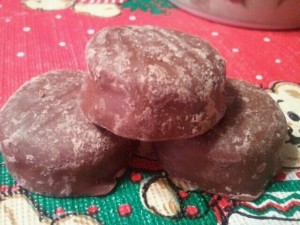 These little Dips were two pretzels, with peanut butter in the middle, then dipped in yummy  chocolate. I had to restrain myself in the car ride home not to eat them. (Lies- I totally ate 3 of them on the car ride home but I have to make it sound like I at least have some self control).
So much self control I actually ripped the bag down the middle. Ooooooops.
Anyway, after scoping out the ingredients (pretty good), looking at the nutrition facts (ehh…), buying these and finally getting them home, I had more and set myself to review them. Overall, these Dips were pretty good! And sweet! There was a milk chocolate tasting chocolate on the outside, with crunchy and fresh tasting pretzels on the inside.
Hmm. Problem. Where's the peanut butter? I thought. The first bite was misleading- hardly any peanut butter flavor. But the second bite I tasted some. I do wish there was more, since I'm in love with peanut butter and will never turn it down : )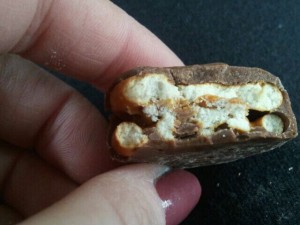 These were pretty much the epitome of a salty sweet snack. Smooth chocolate, crunchy salty pretzels and then a bit of peanut butter flavor. All together, they reminded me of a Reeses peanut butter cup in flavor, but with pretzel flavor as well. (Actually a Reeses peanut butter cup with pretzels in it sounds amazing!)
Overall, a yummy snack. However, very caloric, and high in saturated fat. 4 sandwiches have 4 grams of saturated fat and 150 calories, and these are HARD not to eat more than 4 of. In fact, the bag was gone in a day (not from me!!) but I left them on the kitchen table and later discovered an empty bag (that's what happens when you live with hungry guys in the house!). So, given that and the peanut butter issue (lack there-of issue), these get 4 stars.