Another nut butter to add to my addiction and to subtract money out of my wallet (*sigh*…that wallet never had a chance against any nut butters). Insert, Peanut Butter & Co Mighty Maple Peanut Butter. One of the tastiest I have tried from Peanut Butter & Co., this one is also gluten free and vegan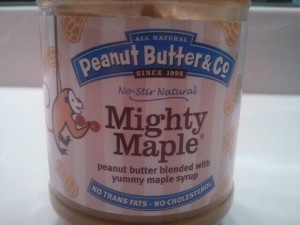 SIDENOTE: How cute is that monkey?! With a barbell!
This was a thick peanut butter- not much stirring required, hardly any actually. Look here, didn't even move as I turned my fork to the side. (WHHHHAAAAAT you don't eat nut butter out of the jar with a fork, too?)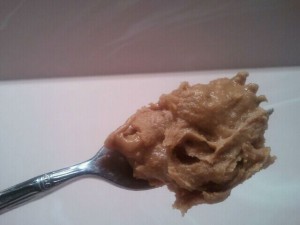 The peanut butter has a mild sweetness, but I can definitely taste both the maple and the peanut butter. It has a roasted peanut taste, and then a hint of maple flavor. Not too salty or too sweet, but just right. I ate this directly from the jar, like most of my nut butters, and I can't get enough of it. This isn't my first jar, and it will not be my last.
One thing different from other peanut butters is I can "taste" and detect the granules- like a very mild grittiness to the peanut butter. Not like sand, or like anything that would ruin the peanut butter, but it is not 100% smooth.
Overall, delicious and addictive. A made a significant dent in my jar the first night. I'm too ashamed to show you the picture and I also don't want to think about possibly eating 3-4 servings in one sitting, so I'm going to pretend it never happened. (*What peanut butter??*) I get remarks all the time about how fast I can finish a jar of peanut butter, and quite frankly, it doesn't bother me a bit. Heart healthy fats, protein, and hey, I can think of worse things to inhale on a 2-3 day basis (sad, yet true. Shelf life of a jar of peanut butter in my house is 3 days tops).
One thing, is these are a bit pricy, I've seen them as much as 6+ dollars for a jar. So, from me, this one gets 4.5 stars =)
What's your favorite flavor/variety from Peanut Butter & Co. if you have tried it? Mine is this one here.