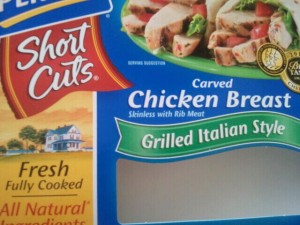 These things are a staple in my fridge. Any given time of any given day, they will be in there. And….I never tried them. Until now of course. After a quick scan of ingredients and nutritional information accompanying a growling stomach after a workout, I decided the Short Cuts Grilled Italian Style Carved Chicken Breast would fit the bill.
Here's a close up-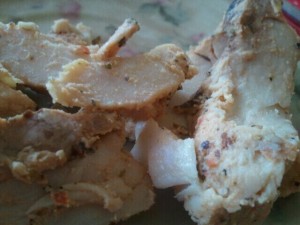 I'm not even a big meat/poultry eater- no pork or beef whatsoever, and turkey/chicken maybe 1 or 2 times a week tops. I prefer eggs and peanut butter for my protein sources, along with occasional beans/tofu. However, these looked good. And I was craving something that would keep me full and fuel my muscles post kickboxing workout.
So, I tried these two ways. Cold and straight from the fridge, and then heated up in the microwave. Since it was seasoned, I tried it as is, with no toppings/sauces or sides.
The chicken itself was chewy, and some pieces were a bit too chewy which turned me off a bit. However, the chunks were relatively fresh tasting. It certainly was very salty, which I expected since it's a prepared and flavored product. I tasted parsley and herbs, as well as onion and garlic flavors. It actually was rather flavorful and I enjoyed it by itself. There was also just a hint of lemon.
Then I heated up the rest of the chicken, and I think it was much better this way. The flavors came out even more, and it took on almost a chicken parmesan flavor. I think it would be really good with some (low sodium) tomato sauce and some shredded cheese on top, like a take on chicken parmesan, but without the breading and frying in oil.
What I liked about these is that they were also MSG free, low in fat, and gluten free. However, the sodium was really quite high, and it even tasted too salty which is a turnoff for me. ESPECIALLY for the person who buys this in my house all the time and eats it frequently, that's a lot of sodium. (But hey, thanks by the way for letting me eat some ;') ) SO, overall, I would give this 3.5 stars. I don't know if I would buy it in the future, but if it was laying around in my fridge (which it will be, no doubt…) I might eat it again.