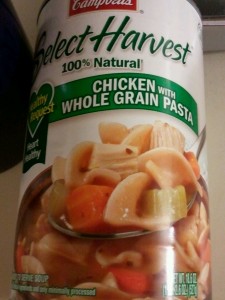 What do cold wintry days bring? Multiple trips to Starbucks and hot bowls of soup. Well at least for me. The weather was beyond bitter cold and windy the other day, and I thought the only thing to help my winter woe's was to have a nice hot bowl of soup.  In the mood for something new, I tried, Campbell's Select Harvest Chicken with Whole Grain Pasta Soup that I bought and was chilling in my pantry.
The ingredients weren't bad, pretty good in fact. Take a look =)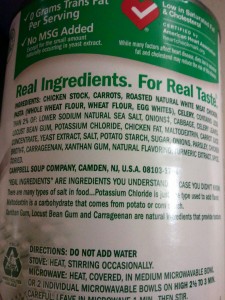 So I cooked up the soup, noticing there wasn't much to it. I'd say it was 50 % broth, and 50% content, mostly noodles with a few carrots and maybe 1-2 pieces of celery. I transferred to a bowl, but left some of the broth in the pot which is why it looks fuller.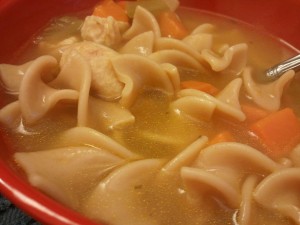 I took a spoonful of the broth- oh. Where's the salt?
Looking at the ingredients I noticed it was made with "lower sodium natural sea salt", and although I don't know exactly what that is, I assumed the lack of salty flavor was because that was used. But there really was a difference- I'm used to the salty soups!
I tried the chicken first, big cubes of it. It was chewy, yet soft, and again, not too salty tasting. It was pretty good, yet standard.
Next up, the noodles, and a LOT of them. They were whole grain, so that was good, and not mushy at all, also a plus. They kept well in the broth,and were a teeny bit softer than al dente. However, they were really bland.
The veggies were scarce, but good. Soft carrots and tender celery- I wish there was more so it would have "bulked" up the soup a little bit.
Overall, it was kind of a bland soup. Boring, lackluster, and really not enjoyable for that matter. I like that it's low in sodium but it still needs flavor! How about some extra garlic or onion powder? Something. I felt like I NEEDED crackers or a piece of bread with butter to eat this soup, and I was even tempted to add salt (I refrained…). I also wished there were more veggies, as the soup didn't satisfy me and I was still hungry (insert handfuls of Ritz crackers here).
With that said, 2 stars. I won't buy this again, unfortunately.