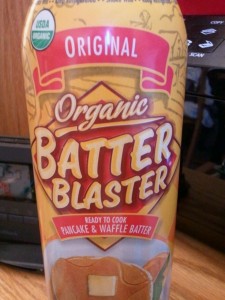 Since I had such success with the last Batter Blaster I reviewed, I thought, why not? Let's try another variety of the stuff and see which one I like best! Off to the store, and a friend of mine  picked up the Batter Blaster Organic Original Pancake & Waffle Batter for me, partly because she said it was the only option to choose from. Well…that works, including I wanted to try the original variety anyway.
This morning post gym, I brewed up some coffee, sliced an apple, and then cooked some egg whites and 1 large pancake (as opposed to 2 small ones as the nutritional information suggests). I cooked up the pancake with some butter/buttery spray as I did that last time and found it helped with the flavor. Here's what my giant pancake (about 42 grams or so of batter) looked like.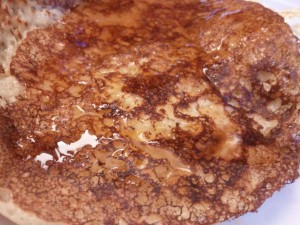 Annnnnnnnd the inside…..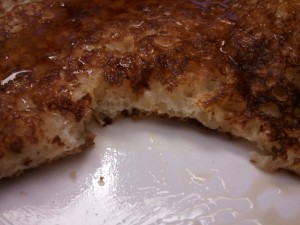 I made more of a BIG pancake (probably the size of my face) so it cooked quickly and wasn't super thick. It cooked evenly and all it took was a little non-stick spray and the pancake gave me no trouble at all.
Post frying pan, I transferred to a plate with my scrambled eggs and put some SF syrup (would love to use a little of the REAL maple syrup, but I'm a diabetic and have to refrain from sugar!). I tried a bit of the pancake plain first, and well, it tasted just that. Plain, kind of bland, not sweet and not a whole lot of flavor. However, I feel like pancakes in general, unless flavored, don't have a bunch of flavor. Nothing a little butter and syrup couldn't fix!
With the butter/syrup the pancakes were really quite good. Slightly crispy on the edges, super fluffy, and yummy. They reminded me of IHOP pancakes.
I do like that these pancakes were organic, relatively low in calories and fat, and like the bottle says "No Mess- No Cleanup!" which is true for the most part, since I still have to clean my frying pan and my spatula. However, these pancakes (by themselves) lacked flavor, and lacked fiber.  So, overall, not bad, but I think I like the Buttermilk version of this much better. 3 1/2 stars
What's your favorite toppings for pancakes? I just like butter and syrup! Mmm :o)