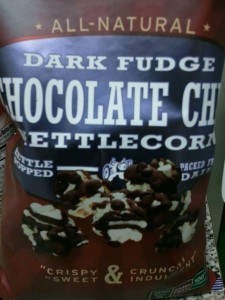 Ohhhhhhhhh man. Who knew they even MADE popcorn like this right? Dark Fudge Chocolate Chip KETTLEcorn? That's like chocolate on top of amazing-ness….Am I right?
I got this bag for free from the company, but I highly recommend you go out and buy yourself one. Seriously.  There are no words for this popcorn besides that it's one of the best things I have ever eaten (have I ever lied to you before???)
You want sweet? check. You want salty? check. You want CHOCOLATE? check! You get all three! (Ok…now onto the review, since I'm starting to sound like a TV Advertisement ("but that's not all!!…" ;] )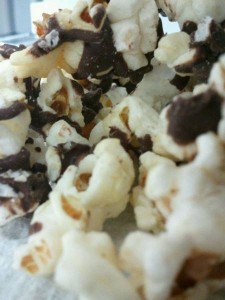 The sweet and sugary tasting kettlecorn was crunchy and also had a bit of saltiness going on. Almost every piece of popcorn had some chocolate on top of it. The chocolate coating was rich, smooth and sweet, and just the perfect addition to the kettlecorn. It did have a dark chocolate flavor, but was also sweet enough that a milk-chocolate lover like myself could enjoy it.
This popcorn was like a twist on chocolate covered pretzels. So many delicious flavors, all in one! And seriously addictive. I would be lying if I told you I only had one serving (jokes!). Good thing the serving size was rather decent, I weighed a nice portion of it, and it was only a little bit over 28 grams (the serving size).
On the down side (womp womp), this snack is kind of high in sugar ( 12 grams per serving) and saturated fat ( 4.5 grams per serving). BUT, it's so good! Eat in moderation (and…don't eat the whole bag in one sitting!!) and you are good to go. This is a must try! 4.5 stars
If you could drizzle anything on popcorn, what would it be? Uhh peanut butter and jelly popcorn anyone?? (hints to you, Popcorn, Indiana!)