I know what you might be thinking if your not a foodie or don't like to stray beyond the "norm" when it comes to foods and beverages- coconut water? Chocolate coconut water?
Well…..don't. Especially if it's this one, Zico Premium Chocolate Coconut Water. It's SO GOOD!
I picked it up at the store after I felt like I needed a little boost. It was one of those days. Those slept through my alarm clock, couldn't find the appropriate outfit to wear, and walked too close to the edge of the sidewalk so a car came and splashed a puddle on me days.
*sigh*
What I really needed was a giant cookie (and maybe a hug), but for some reason, this gem called my name.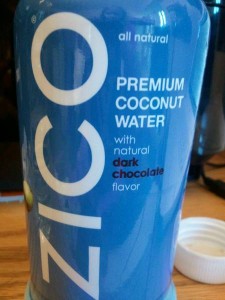 It reminded me a lot of chocolate milk. Sweet but not overly sweet, but with a yummy chocolate flavor, but I can tell it was dark chocolate. However, I'm not a big dark chocolate fan at ALL, and I was really happy drinking this, as it was a mild "dark" flavor. I didn't really taste any coconut, which I dont know if I was supposed to or not since it's water from coconut. It was thinner in consistency than milk would be, but still had a creamy taste.
Overall, I really liked it! I would definitely buy it again. Unique, and delicious :). And look at those health benefits!
4 stars