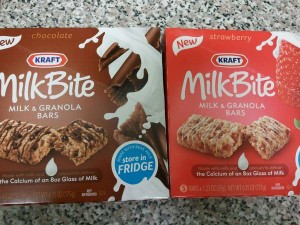 New product alert! I was contacted to see if I wanted to try some new bars for free from Kraft! They are the MilkBite Milk & Granola Bars, that come in two flavors, Chocolate and Strawberry.
What's different about these bars? You have to refrigerate them! As the box indicated, they are "made with real milk", so it's best to "store in the fridge!" And….gotta love that they have as much calcium as a glass of milk! (8 oz)
I opened up the boxes of the Chocolate and Strawberry MilkBite bars and noticed they were standard sized granola bars. Not too big, not too small, about the size of my hand. Here's what they looked like unwrapped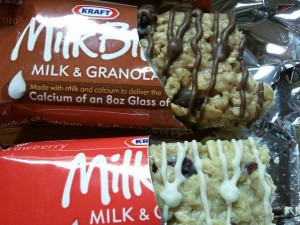 I tried the chocolate one first (for obvious reasons). Upon first bite….love! It was chewy yet still dense, and really good. It reminded me of cookie dough upon my first bite- like the little pieces you get in ice cream. So yummy! It didn't have an overpowering chocolate flavor, but more like accented with chocolate flavor. It also reminded me of those Chocolate Chip Chewy Bars by Quaker. It was sweet, but not too sweet, and really quite enjoyable.  I mean really…what's not to love about a granola bar that provides calcium and tastes like cookie dough!?
Next up, the strawberry flavor. This one was also good, but definitely sweeter. It had that tangy yet sweet strawberry flavor, and a white drizzle on top of the bar that reminded me of white chocolate. The dried pieces of strawberry in the bar added a nice touch. I noticed that this bar was softer than the chocolate flavored one, and a bit more chewy.
Overall, both are winners, and both are unique. I think they are good to eat before the gym, which is probably what I will do since I dont want the bar sitting my in my bag all day if it should be refrigerated. I think it depends on my mood for which one I want to eat. Chocolate and more savory? Chocolate flavor! If I want more of a fruity and fresh flavor, and perhaps a bit more sweet, strawberry flavor! These were a bit high in saturated fat and sugar, but not too bad. Overall, 4 stars.
Red= strawberry nutrition, Brown= chocolate nutrition