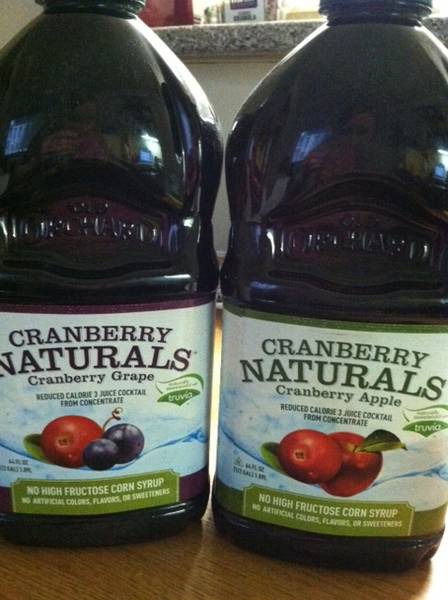 I dont know about you, but I LOVE cranberry juice. Tart, yet sweet, and just delicious. One thing about juice? Super easy to drink, and full of calories. Which is good if it's 100% fruit juice and your only having a glass every now and then, but if leaves me feeling unsatisfied (still hungry!!) and I always want more!
So, I was contacted to see if I wanted to try Cranberry Naturals Cranberry Apple and Cranberry Grape Juice Cocktails for free. According to the bottles, these are reduced calorie juice cocktails that are sweetened with truvia. They also have no HFCS (yay!) and have "no artificial colors, flavors or sweeteners".
Sounds good to me!
I tried the Cranberry Apple flavor first.
It had a yummy apple juice smell to it, with just a hint of cranberry.  It definitely tasted like a hybrid of apple and cranberry juice. The sweetness of the apple blended with the tartness of the cranberry. It wasn't as sweet as usual and had a more milder flavor, but was still pretty good. I actually really liked it!
Next up, the Cranberry Grape flavor.
I liked this one even more! I could certainly taste more of the grape flavor, but since it wasn't super sweet it took on more of a white grape juice flavor. The cranberry flavor got a little bit lost, but there was still a mild tartness to it that I enjoyed.
Overall, these are delicious! I honestly could not really tell it was a reduced calorie drink, because the sweetness and flavor were both present in each flavor. I would love to buy these in the future and introduce them to you guys!
(Scroll down for a giveaway!)
4 stars
SO, want to try them for yourself?!
One winner (United States only) will win 4 coupons for free bottles of the juice cocktail!
How to enter:
*MANDATORY*
1. What's your favorite type of juice? If you don't drink juice, why not?
OPTIONAL but encouraged :o)
2. Add me to your blog roll!
3. Follow me on Twitter and tweet about this giveaway, mentioning my name@Lisaaaa_xox AND the link to this giveaway in the tweet! Each tweet equals one entry.
4. Leave a comment on any of my reviews- must be a new comment.
Giveaway ends March 8th, 12 PM. Good luck!