Something new to try! I got a free box of Nimble bars by Balance bar. I was excited, especially when I heard that they had a PEANUT BUTTER flavor. Like music to my ears…
I also love that the bars have calcium, fiber, protein and are sweetened with truvia! More nutritional music to my  ears (wait…what??)
Plus, something new, there is lutein, beta-carotene and antioxidants c and e which are good for the skin ("when consumed daily for 2 weeks" as the box says).
And…. only 120 calories each! Nice. However, to throw a con in there, they are a bit on the tiny side :/
However, let the review of the flavors commence. The bar itself was very soft, and chewy, and also quite dense. The flavor was ok, not super peanut buttery, but I can tell its "peanut butter flavored". It was sweet but not too sweet, but NOT sugary tasting. It also had that salty flavor, and a little bit of an aftertaste.
I noticed that both bars had tiny little orange dots in them. If you look closely at the pic, you can see it!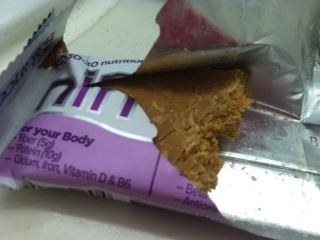 This one gets 3.5 stars
Next up, the Yogurt Orange Swirl-
I noticed that it was sweeter than the peanut butter flavor, but also soft and chewy. It had  a rather good orange flavor, and actually tasted kind of like a creamsicle! Mmm : )
This one also had a tad bit of saltiness to it, but I enjoyed it as a whole. This one also gets 3.5 stars
Overall, pretty good. Have water nearby as they made me crave a cup of it! They are kinda tiny which is something to note, but I like the nutritional facts, the ingredients, and the flavor is quite good. AND only 4 grams of sugar! Woo! Two thumbs up!
Nutritional Information for the Peanut Butter flavor (SOURCE).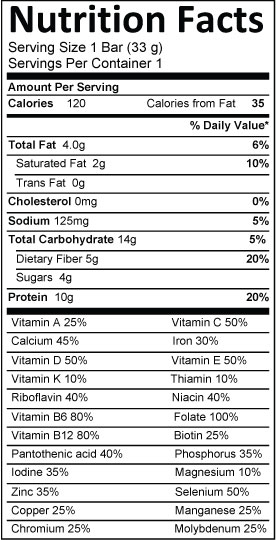 Nutritional Information for the Yogurt Orange Swirl flavor (SOURCE).