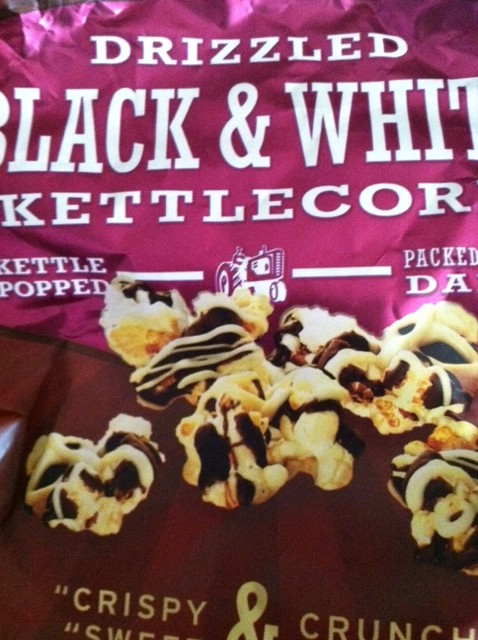 POPCORN! What an awesome snack. You can get it sweet, salty, spicy, and chocolate-y too! We all know about my love for the last flavor I tried by Popcorn, Indiana (yea, that bag was gone in a day…) so I KNEW this one would be equally as good.
I opened up the bag that I got for free from the company, and saw pieces of kettlecorn, some drizzled generously in a black and white coating, and also "clumps" of popcorn. Meaning, there were "clumps" of 4-5 pieces of popcorn all being held together by a delicious black and white drizzle. Was I complaining? Nope. Not even a little 🙂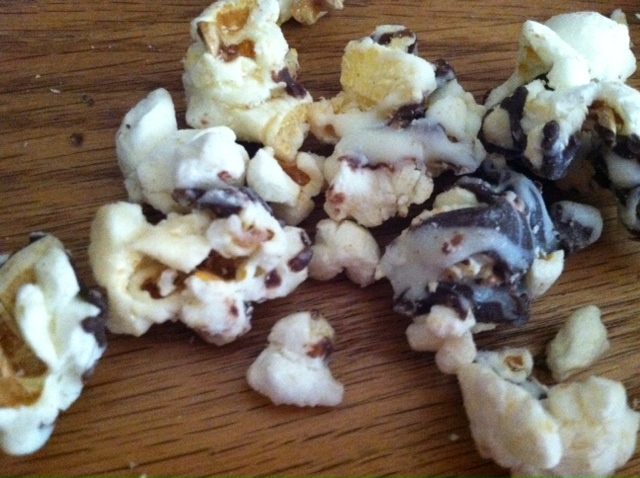 I tried one of the clumps. Mmm….delicious. The popcorn was light and fluffy, but still crunchy. The white and black coating was smooth and very sweet, and provided both a chocolate and vanilla type of flavor. The crunchy and slightly saltiness of the popcorn made the popcorn taste almost like chocolate covered pretzels…but better.
The popcorn was definitely on the sweet side, so I think it would go great with a glass of milk (soy, almond, moo juice, whatever fits your preferences 😉 ). But it was really good! I love black and white cookies, so black and white popcorn is certainly a new favorite.
YES, this was addictive. YES, I had more than a serving (hahaha way more than a serving…) and YES, the bag is currently gone (boo!). Therefore, this popcorn gets 4.5 stars. Glad I got a chance to try it! I believe I have seen it at Whole Foods during the holiday season. Keep an eye out, and if you have seen it please leave a comment so we can find it at the stores and enjoy! 🙂
And…..I may or may not have been so excited to try this that I ripped the bag. OOOOOOPS! =)