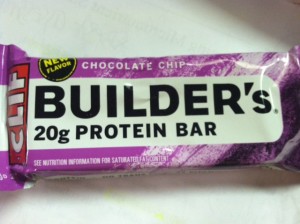 I'm not a meat eater. Good for my cholesterol levels, bad for my protein levels- especially since I'm a total gym bunny. So I often try to find high protein foods to supplement the protein I lack when I don't eat that cheeseburger or steak (which, mind you, hasn't been done since 7th grade! Wow….such a long time!)
I also am quite fond of protein bars. Weird? Nah. I just think you have to find the right ones! Some can be a bit chalky, or others pounded with sugar and fat, but if you find a good bar with a good amount of protein I think it"s perfect as a  light meal or alongside some fruit for a light meal.
So, what took me so long to finally try these Clif Builder's Bars? No clue. What's WRONG with me!? Maybe I was blinded to the protein bar section in CVS or Whole Foods that contained the Clif Builder's Bars. But, the other day I picked up one of every flavor from Whole Foods, hoping they would be a success.
Not going to lie, already had 2 of them (two thumbs up!!) before I thought to review one. Well DUH on my part, seeing as  I have a health food blog that reviews new products I eat and all…. =P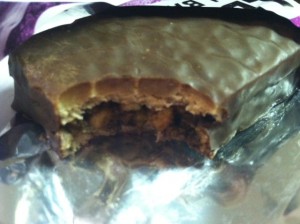 The bar was actually quite good. It was a soft chew, with a crunchier inside very similar to the "crispie" part in the Luna bars. It did have that infamous "soy" flavor, but not overpoweringly so. The softer  part on top was chewy, dense, and almost had a vanilla flavor. The crunchier "Luna-like" part on the bottom was chocolately in flavor, but not really super flavorful. All together, I got almost a light caramel/chocolate malt flavor. It was weird…but it was good. I liked it.
I can't say this SCREAMED chocolate chip flavor, but that doesn't mean I didn't enjoy it. It was more of a chocolate malt flavor, or chocolate in general. It had that kind of flavor that made me crave some water, but was sweet as well. I would most likely buy this one, especially since it had no sugar alcohols and no artificial ingredients, which often accompany protein bars.
Overall, 4 stars. I had this for lunch with a giant fruit cup and was quite satisfied. Its high in saturated fat and sugar, but also high in protein and with a low glycemic index. Perfect for a diabetic like me! =)
WHAT'S your favorite protein bar brand/name? Let me know! =)